Top 10 Adventurous Destinations In India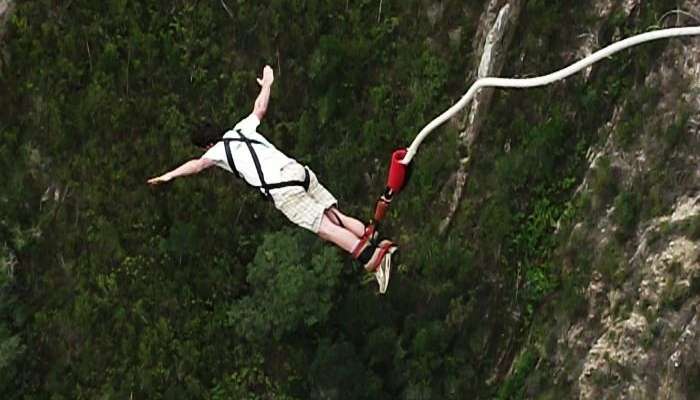 Jim Corbett Safari in Uttarakhand:
Face-to-face encounters with some of the rare wildlife fauna of India especially with tigers then put this on your bucket list the Jim Corbett National Park is the best place to visit for the same. They have some of the exotic animals which are wildlife in the National Park which is spread around to 13184 sq. km and located in the district of Nainital of Uttarakhand state. Here the tourists can take up Jeep Safari through this National Park. You can also witness the royal tiger of Jim Corbett if you're lucky enough. There are different zones namely the Sonanadi zone, Bijrani zone, Durga Devi zone, and also Dhikala zone. Monsoon season is not an ideal time to take up this track but it is preferable to take up the trip between the months of mid-October to mid-June.
Kedarkantha Trek:
Kedarkantha is said to be one of the popular winter trekking spots, where even a beginner can take up this trek. This trekking journey takes about 6 to 7 days to complete. The journey uphill begins from Dehradun and goes into a small and amazing village called the village of Sankri. The village of Sankri is actually inside a wildlife sanctuary known as the Govind Wildlife Sanctuary that is a shelter to a diverse and rare species of fauna and flora. This Kedarkantha trek takes you to one of the highlights which are the Juda Ka Talab, a lake that is believed to be formed by a droplet fallen from Lord Shiva's head. Trekking through lush green maple forests, magnificent pastures, morinda spruce, oak forests, beautiful meadows, and captivating water bodies are all available here.
Caving at Meghalaya:
Meghalaya which is in the North-Eastern part of India is a wonderful location by all means. This trip is worth every penny spent on the same. Majestic mountain ranges, amazing waterfalls, and also those enchanting caves make this trip a must-try one. The adventure that is most happening is caving in Meghalaya, north of India. There are 2 hills that are said to be blessed with caves that are enigmatic namely the Jaintia hills and the Khasi hills. December to March, which is the winter season, is the best time to take up this trip.
SkyDiving at Mysore:
Skydiving is said to be one of the most thrilling adventures one can ever experience. By taking up this activity one gets to fly in the mid-air having a bird's eye view of this land. At Mysore, one cannot just miss this adrenaline-rushing activity. For those who take up this activity of skydiving, you will be well trained and properly provided with safety and security. Skydiving can take you to a height of about 6000 feet and above to almost 10,000 feet.
Dune Bashing at Jaisalmer:
Dune bashing was generally happening only in the sands of Dubai, but that is no longer true. One can enjoy this adrenaline adventure now at Jaisalmer in India. Amidst the Thar desert which is about 44 km from Jaisalmer lies the Sam sand dune bashing. It is a 4 by 4 SUV desert sitting inside to experience the sand dashing on its way. It is ideal to take up this adventure during the months from December to March.
Skiing at Gulmarg:
For all those adrenaline junkies, this is the best adventure that you can take up which happens in Gulmarg of Jammu and Kashmir. Gondola, which has its tip up to a height of about 4000 m, serves the Gulmarg skiing, which is at the summit of Apharwat mt.
Hot Air Ballooning at Jaipur:
If adventure is your thing then hot Air ballooning through this beautiful place is an enthralling experience that makes the adrenaline rush. Jaipur is popular for its Sky Waltz Balloon safari. This place is known as the pink city and a bird's eye view all over the city is actually a wonderful experience one can get. Some mesmerizing views of the hidden palaces and knowing the history of the same from a different angle. A one-hour safari happens either during the early mornings or during the afternoon. It is best recommended to take up this trip between the months of November to June.
Rock Climbing at Satpura:
Pachmarhi Biosphere Reserve is where this Majestic mountain for you to climb is located. The mountain ranges of Satpura offer some adventure activities such as rock climbing. One can directly reach this location from Bhopal by bus, it is about 210 km by roadways. You can also reach here from Nagpur.
Paragliding at Bir – Billing:
The village of Bir Billing is located in the district of Palampur of the state of Himachal Pradesh. This place offers adventurous and challenging paragliding. If one has a height phobia which is the fear of height this isn't for you, but if you are patient enough to enjoy paragliding then this is the best adventurous activity you can take up. Bir Billing is successful in hosting paragliding in the 2015 world cup. It is considered and experimented to be one of the safest destinations for paragliding which takes you to a height of about 8000 feet above sea level and landing you to a height of 4300 feet. It is recommended to take up this trek during the month of November to May. There are different routes connecting this village of Bir Billing, if one is starting their journey from Delhi you get to cover through Chandigarh, Palampur, Kangra, and other regions depending on the routes and the buses you choose.
Scuba Diving in Andamans:
A truly magical place to visit is the Andamans with its clean blue crystal water and beautiful marine life. This is a lifetime experience one has to take which is worthwhile and adventurous. From octopus to scorpionfish to the coral reef to sharks there are many more things that are worth visiting this place. There are also some diving sites in the Andamans namely the Clinique Island (Port Blair), The Wall (Havelock Island), and the Fish Rock (passage Island). This Island is calm and is better for diving during the months from January to May which is also said to be the best time to take up this trip.