How to Make Reuben Sandwich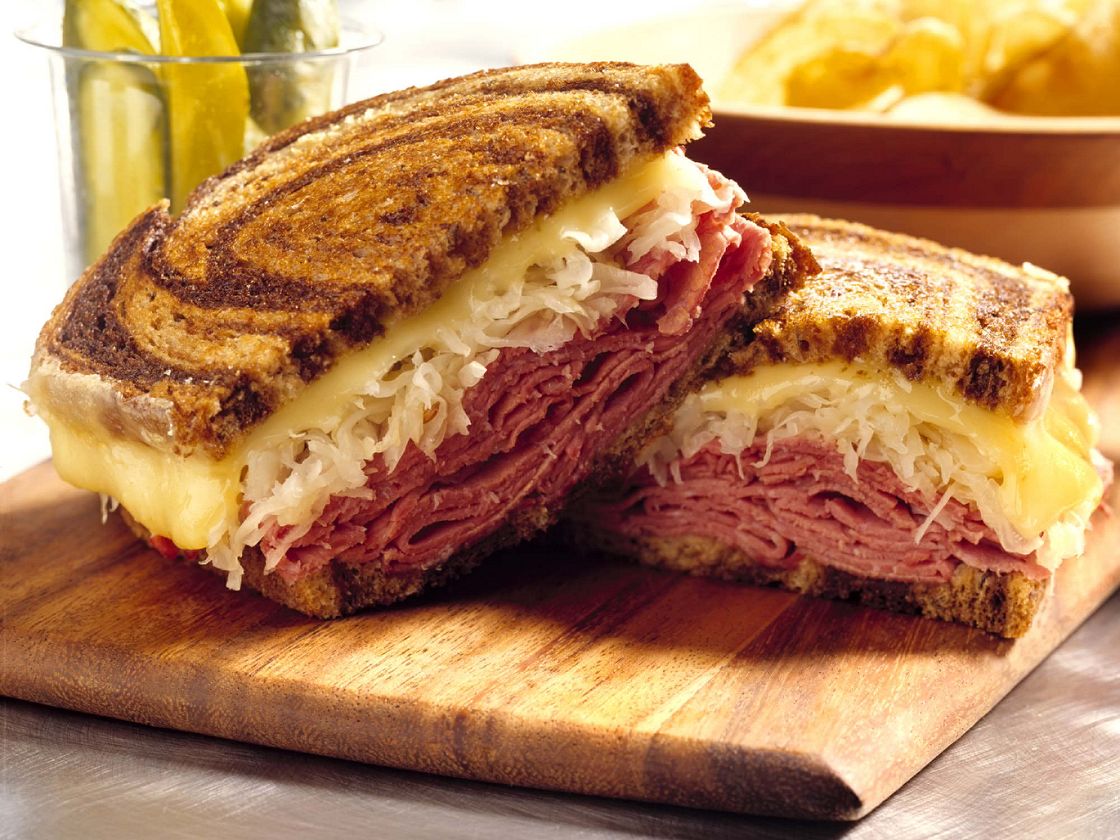 This Reuben sandwich is a classic American hot sandwich with corned beef, sauerkraut, and Thousand island sauce! There is no denying that it is satisfactory and easy to make.
I wanted to eat a Reuben sandwich last week so badly which made me keep thinking about it continuously so I had to make it again. This classic Reuben sandwich recipe is very simple to make and tastes rich. It just takes only 11 minutes, to make and eat this monster sandwich. This is definitely an addition to your repertoire.
you can make this Reuben sandwich with corned beef or pastrami, bold Swiss cheese, sauerkraut, rich thousand island sauce, and any bread which you like. It is very satisfactory. It is the perfect choice for lunch or dinner.
What is a reuben Sandwich?
Reuben sandwich is a traditional American grilled sandwich made of corned beef, Swiss cheese, sauerkraut, and Russian seasoning. It is baked between rye bread slices. Although Russian dressing is the first choice of seasoning with a long history, Thousand Island seasoning is also widely used.
Continue to scroll down to the recipe card to view the complete list of ingredients and instructions.
INGREDIENTS
4 slices of dark rye bread
1 cup Swiss cheese -shredded
4 tbsp. thousand island dressing
1 cup sauerkraut
1/2 lb. corned beef- or pastrami, thinly sliced
4 tbsp. butter- unsalted, softened
Bread – I use rye bread because of the taste it adds, but feel free to use your favorite bread.
Swiss cheese – the staple of Reuben sandwich, shredded or sliced.
Thousand island Dressing- you can make your own dressing or use store bought dressing .
Sauerkraut – mostly can find at the local grocery store. In case if you can't find it , you can use coleslaw!
Meat – thinly sliced corned beef or pastrami.
Butter – use unsalted butter.
Russian dressing vs thousand island dressing
There is often confusion between Russian dressing and Thousand Island dressing because they are based on mayonnaise and ketchup or ketchup style chili sauce – eventually forming a pink-hued salad dressing. Although they are very similar, there are slight differences between them.
Thousand Island dressing – more to sweeter side and dotted with the taste of pickle relish.
Russian dressing– more spicy with a hint of horseradish and hot sauce.
Both are special choices for Reuben sandwiches, depending on your preference.
How to make a reuben sandwich
Assemble the sandwich: put two pieces of bread on the cutting board. Top with Swiss cheese, shred or slice. Sprinkle some thousand island sauce on each piece of bread, and then top with half of the corned beef on it. Finally, put half of the sauerkraut on each piece, and then put another piece of bread on top. Coat the outside of the top slice with about 1 tbsp butter.
Toast the sandwich: heat a large saucepan over medium heat. Put two sandwiches with the buttered bread down in the pan and cook until golden, about 3 minutes. Spread the remaining butter on the top of the bread slice, change the side of sandwich, and cook for another 2 to 3 minutes or until golden.
Serve – Serve right away.
Nutrition Information:
Serving: 1sandwich
Calories: 931kcal (47%)
Carbohydrates: 42g (14%)
Protein: 38g (76%)
Fat: 68g (105%)
Saturated Fat: 32g (200%)
Cholesterol: 180mg (60%)
Sodium: 2618mg (114%)
Potassium: 640mg (18%)
Fiber: 6g (25%)
Sugar: 9g (10%)
Vitamin A: 1225IU (25%)
Vitamin C: 41mg (50%)
Calcium: 515mg (52%)
Iron: 5mg (28%)
How to serve a Reuben Sandwich
The ingredients of this sandwich are the simplest, and the key is assembly! Be sure to add a lot of sauerkraut and corned beef or pastrami! Melted Swiss cheese and warm Thousand Island seasoning sprinkled on roasted rye really connected the Reuben sandwich together. Enjoy with crispy dill pickles or with a side of chips, French fries, or salad and you'll get the ultimate sandwich combo.
The difference between corned beef and pastrami
Although they are very similar, there are some differences between the two kinds of meat.
When both kinds of meat are cured, the corned beef is boiled and pastrami is
the smoked beef. Pastrami can also be rubbed with spices again before smoking.
Corned beef is meat cut from the breast of an animal. Although pastrami can also be breast meat, it usually comes from the navel, which is an incision close to the breast, closer to the belly than the breast
Both are traditional sandwich meat, which you can find at your local market or you can make my homemade corned beef recipe – either option can go well with this Reuben.
How to store leftovers
Store ingredients separately in the refrigerator. It is best to follow the before-the-date on the ingredients.
We would like to hear about your problems, questions, and Suggestions. So feel free to contact us.