American Goulash (Chop Suey)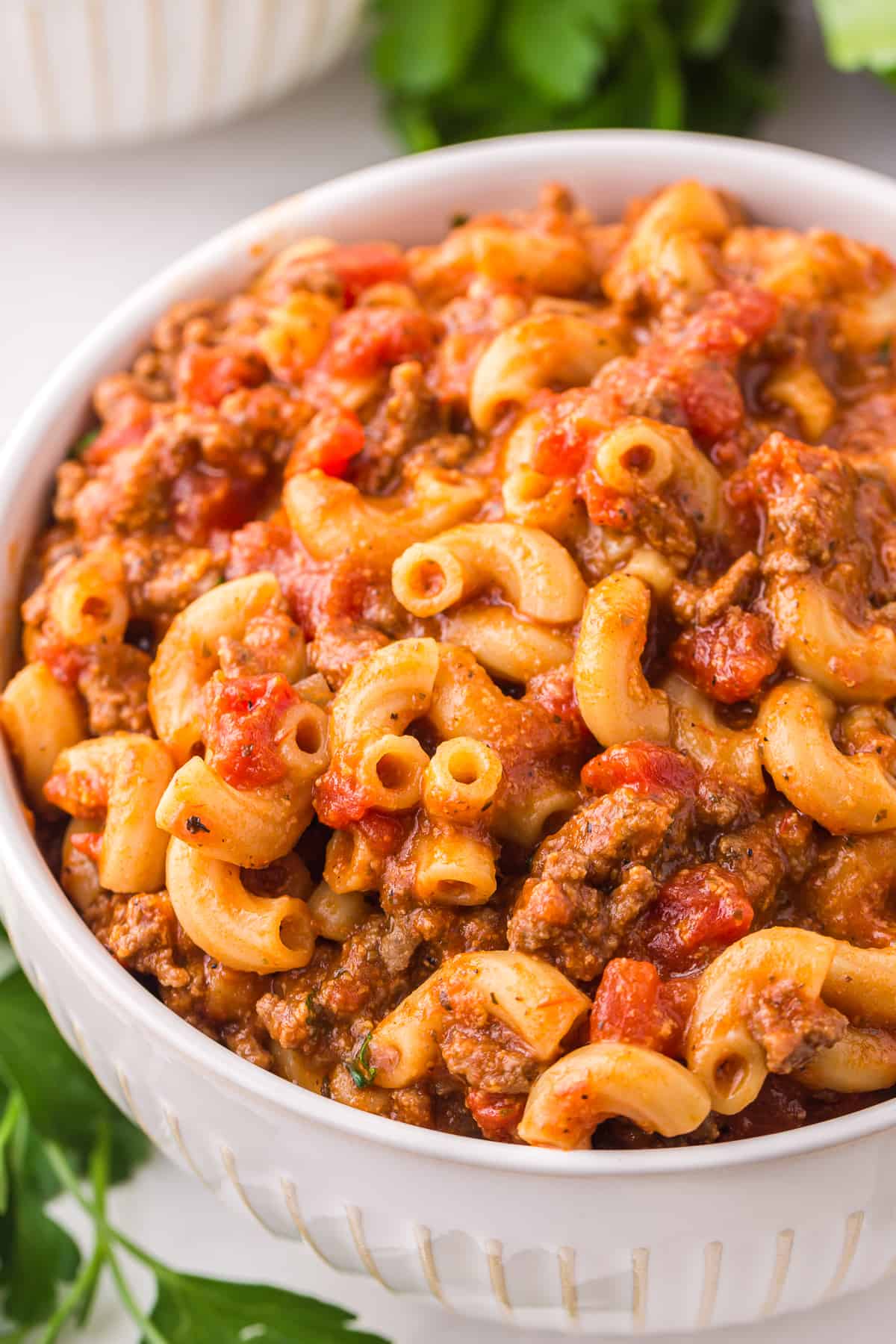 American Goulash – one of the classic pot meals! With beef and macaroni, cooked in rich tomato sauce until tender and smooth. With a simple list of ingredients and simple instructions, this comforting recipe is a favorite of busy families. Even picky eaters will lick the bowl clean!
I'm crazy about a good pot of rice. A lot of ground beef, cheese, and most importantly: spaghetti! This recipe is a winner! You may not always see cheese in the traditional American goulash recipe, but I just can't help it. Once you take a bite, I'm sure that you don't mind at all.
You may also know that this recipe is called "American chop suey". If you are thinking what's the difference, the answer is absolute No. You can name the dish Whatever you want like, heaven is in a bowl or Cheesy beefy saucy goodness.
American goulash vs Hungarian goulash
If you are more familiar with the Hungarian version of goulash, you may be confused by this recipe. Where's the chili powder? Ground beef? pasta? Although Hungarians have invented a recipe flavored with a large amount of sweet paprika and cooked slow with tender stewing beef, this recipe is just to be simpler and faster.
Hungarian goulash is usually eaten with egg noodles. American goulash is Cooking with the elbow macaroni directly in the sauce. At first glance, they seem to be very different recipes, but the basic ideas are very similar. Even if you are used to Hungarian goulash, try this recipe! I think you'll be surprised.
INGREDIENTS
1 tbsp. olive oil
1 ½ lbs. ground beef lean or extra lean
½ tsp salt or to taste
½ tsp pepper or to taste
1 tbsp. Italian seasoning
1 medium yellow onion chopped
3 cloves garlic minced
28 oz. diced tomatoes 1 can
2 cups passata or tomato sauce
tbsp. soy sauce
2 cups beef broth low sodium
2bay leaves
2 cups elbow macaroni dry, uncooked
1½ cups cheddar cheese
1 tbsp. parsley freshly chopped, for garnish
RECIPE NOTES
Olive oil – sunflower oil, safflower oil, avocado oil, rapeseed oil or vegetable oil also will work.
Ground beef – if you like, you can use other ground meat instead.
Salt and pepper – season to taste.
Italian seasoning – use a salt free mixture.
Onions – I use yellow. White or red is onion also will work.
Garlic – use as much as you like.
Tomatoes – diced tomatoes and passata. If you can't find passata, use tomato sauce.
Soy sauce – use low sodium if you can. You can use Worcestershire sauce instead.
Beef broth – low sodium. you Can use chicken or vegetable broth if you want.
Bay leaf – fresh or dry.
Elbow macaroni – other small shapes such as Farfalle, ozzo, penne, rotini or shells are also acceptable.
Cheddar cheese – you can use Gouda cheese, Monterey Jack cheese or marble cheese.
Parsley – freshly chopped for decoration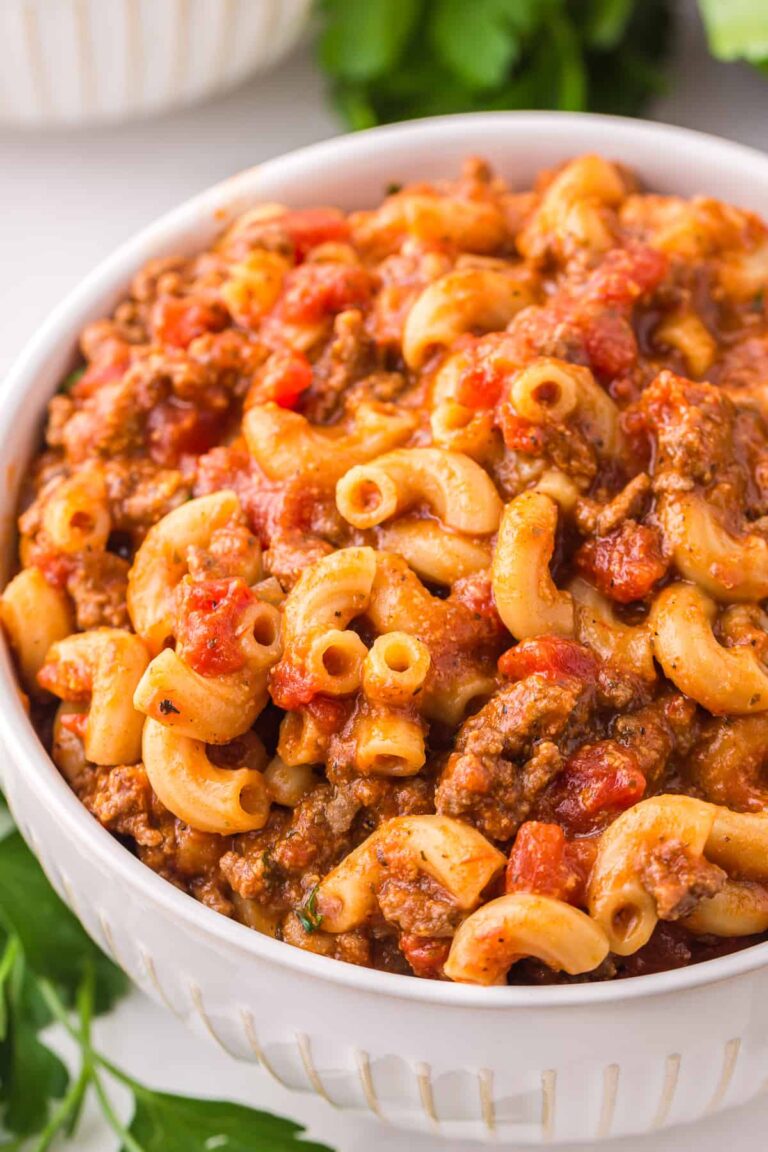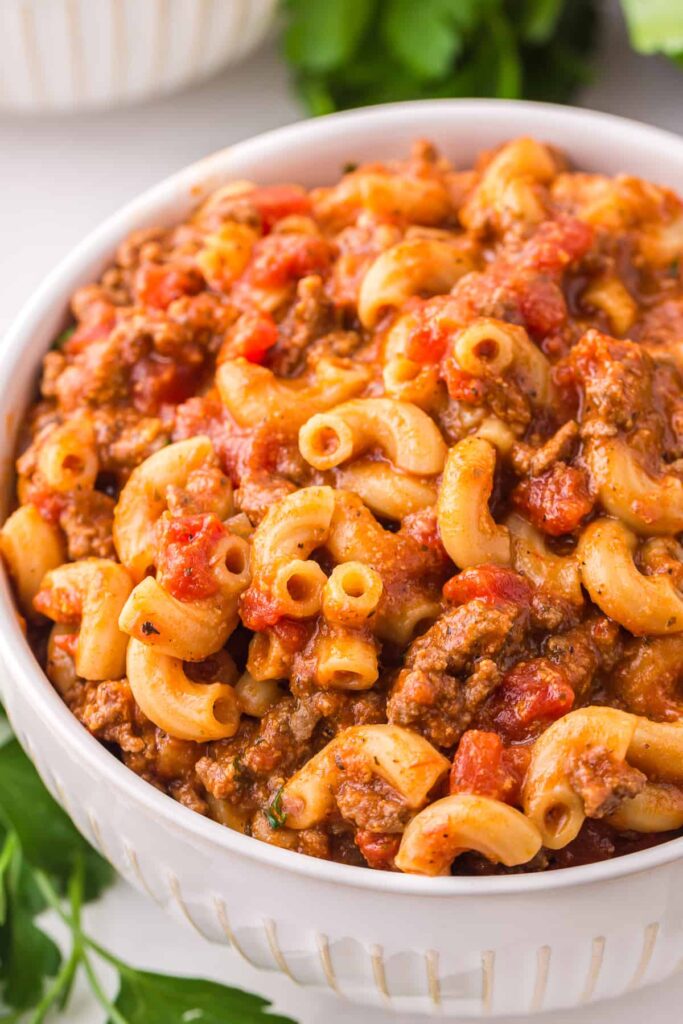 How to make American goulash
Cook the beef: add olive oil to the Dutch oven over medium high heat and Add ground beef, salt and pepper, cook for 3-4 minutes, and chop while cooking. If necessary, remove the excess grease on the oil pan and leave 1-2 tablespoons.
Cooking onions: add Italian seasoning and onions. Cook for another 3-4 minutes, or until the onions are soft and translucent. Add garlic and cook for 1 minute or until you feel good smell.
Simmer the sauce: add diced tomato, passata, soy sauce, beef soup and bay leaf. Bring the mixture to a boil and reduce it to a low heat. Cover and simmer over low heat for 20 minutes, stirring occasionally.
Cook the noodles: add macaroni, cover, stir occasionally, cook for 12-15 minutes or until the noodles are soft. Stir in cheese and garnish with parsley. Serve the dish.
Can I add veggies?
If you want to add color to your dinner, but you really want to put everything in one pot, I have several choices for you. Some vegetables cook faster than others, so I'll give you a list of vegetables you can add to macaroni and vegetables to add in the last two minutes of cooking.
WITH THE PASTA:
Carrots
Cabbage
Mushrooms
Celery
Beans
FOR THE LAST 2 MINUTES:
Broccoli or cauliflower
Spinach or kale
Corn
Peas
Green beans
Zucchini
Okra
Nutrition Information:
Serving: 1serving
Calories: 436kcal (22%)
Carbohydrates: 39g (13%)
Protein: 30g (60%)
Fat: 18g (28%)
Saturated Fat: 8g (50%)
Cholesterol: 78mg (26%)
Sodium: 739mg (32%)
Potassium: 992mg (28%)
Fiber: 4g (17%)
Sugar: 7g (8%)
Vitamin A: 698IU (14%)
Vitamin C: 18mg (22%)
Calcium: 228mg (23%)
Iron: 5mg (28%)
What to serve with American goulash?
The recipe itself is great, but I know some of you will crave diversity on the table. Try these ideas:
SALAD
ROASTED VEGGIES
FRESHLY BAKED BREAD
How to store leftovers
Transfer all your leftovers to a sealed container and store them in the refrigerator for 3-4 days. This dish is best to heat in a microwave oven and stir every 20-30 seconds.
If you don't have a microwave oven, you can heat it over medium heat with a pot or pan on the stove. Stir often and add some splash of broth to prevent drying out.
How to freeze goulash
You have two options to freeze your goulash. If you plan to cook goulash in advance for a later easy dinner, you can freeze it before or after adding pasta. Remember, cooked pasta will become very soft after freezing and thawing. If you don't mind its texture, you can transfer it to a sealed container, let it completely reach room temperature, and then freeze it and keep it up to 3 months.
If you don't like soft thawed pasta, you can simmer the sauce till step 3 and then freeze it. Let the sauce fall to room temperature and then freeze in a closed container for 6 months. Heat in a Dutch oven, bring the sauce to a boil, and then continue with step 4 of the recipe.
We would like to hear about your problems, questions, and Suggestions. So feel free to contact us.