How to Make Firecracker Salmon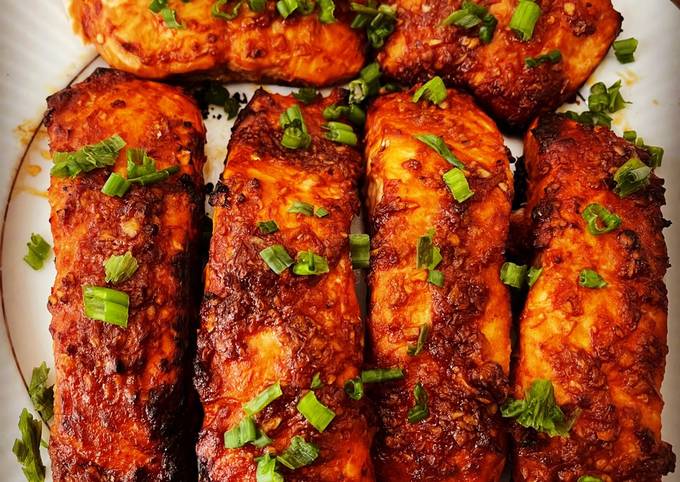 Add vitality to your dinner tonight with this firecracker salmon. Red pepper flakes and Sriracha sauce give the salmon some hot taste, which gives it its name.
Let me get to the point. Because in the case of fish, this may be the incredible result you're going to get. I have no prejudice. I just tell you that you will like this salmon.
When I work in the IT department, when developing applications, we always follow the KISS principle and keep it simple and stupid. Most of the time, I like to follow the same principles when cooking. So if you can try to mix some ingredients together and pour them on the fish, you can make this simple recipe.
Firecracker Salmon
Because of its color and name, you may see this salmon and will think that this salmon is so hot that you can't touch it. Well, it's a little spicy, but I added some brown sugar to the marinade to balance the spicy and sweet taste. Trust me, it works. This marinade is a bomb.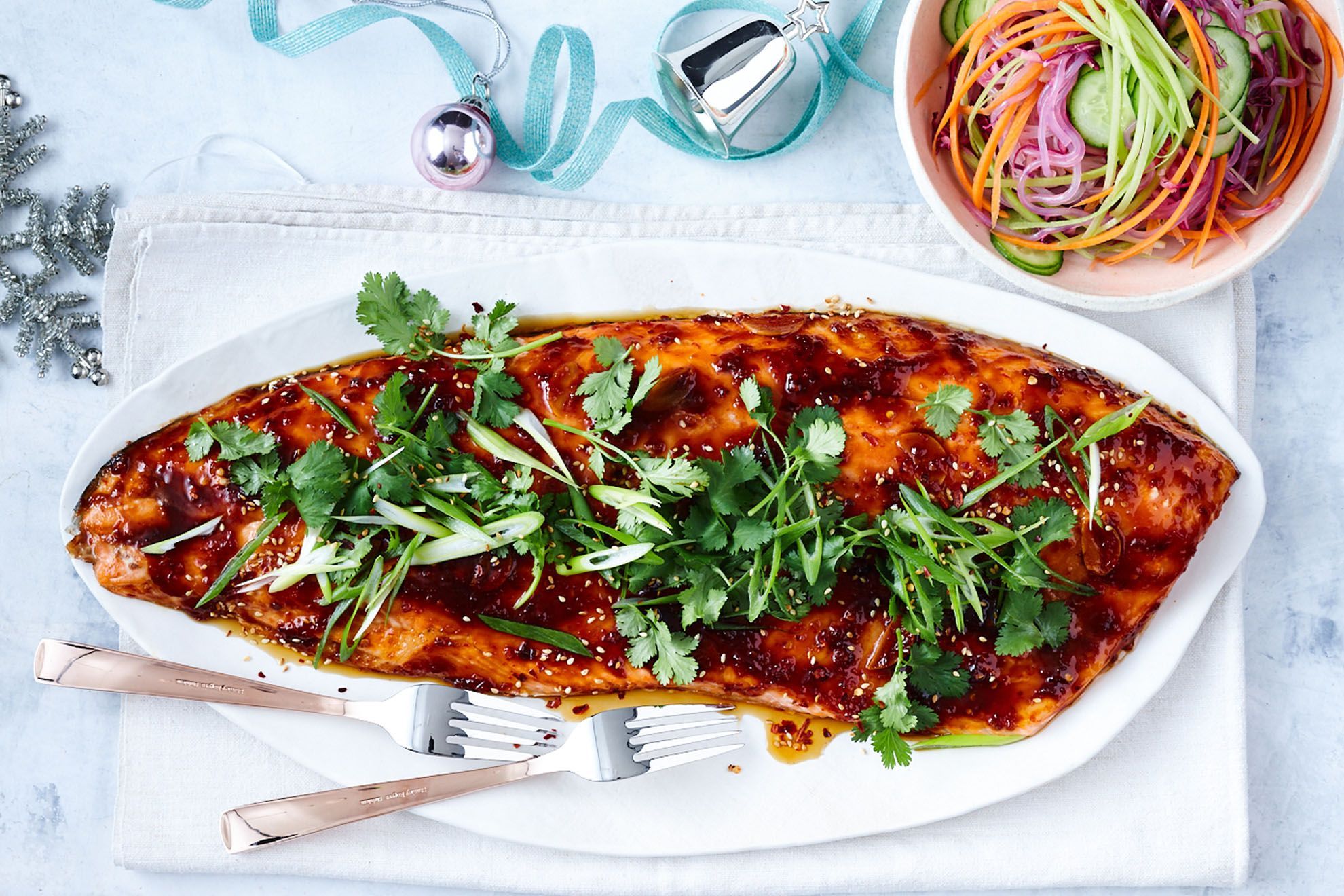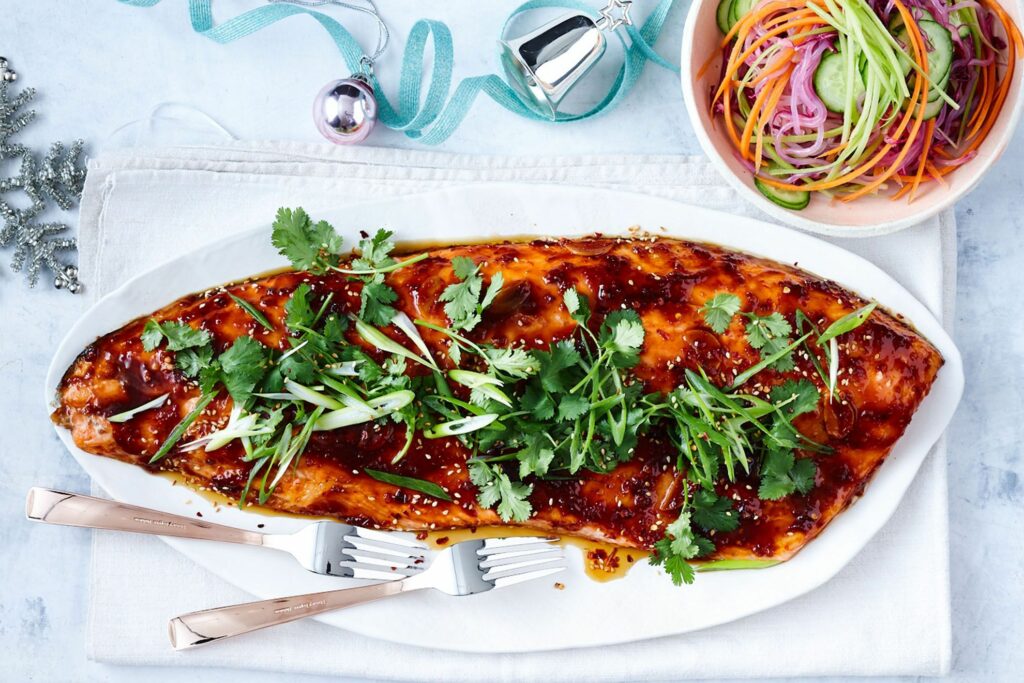 How to cook Firecracker Salmon?
INGREDIENTS
1 1/2 lb. salmon fillet( no skin)
2 green onions( chopped)
For Marinade
3 cloves garlic -minced
1 tsp fresh ginger -minced
1/4 cup olive oil
1/4 cup soy sauce- low sodium
2 tbsp. brown sugar
1 tsp crushed red pepper flakes
1 tbsp. Sriracha sauce
1 tsp ground black pepper
Instructions
Add all the marinade ingredients together in to a small bowl and mix them together.
Put the salmon in the baking pan and pour the marinade on the salmon. Spread the marinade on both sides to ensure that the whole salmon is covered. Cover the baking tray with plastic wrap and marinate in the refrigerator for 2 to 24 hours.
Preheat the oven to 375 degrees Fahrenheit.
Remove the plastic cover from the baking tray and bake for 15 to 20 minutes. Note that the baking time may vary depending on the thickness of the salmon.
Decorate with chopped green onion and serve immediately.
Tips
You'll need to marinate your fish for at least a few hours. I think I put mine there for 2.5 hours. The longer you leave it, the better the taste. Then simply bake for 15 to 20 minutes, depending on the thickness of your salmon. If it is thicker, it may take more time.
If you don't want a large piece of such fish, especially when you serve guests, you can also use salmon fillets.
In case if you want to grill this salmon, I suggest you put it on a large aluminum foil so you can fold up around the edges. After that, you can grill it with aluminum foil and other materials.
How to Serve Firecracker Salmon
I'll put it on some steamed rice, or with a steamed vegetable, such as broccoli and cauliflower.
Recipe description
You can adjust the quantity of sriracha and paper flakes according to your preferences.
You can use salmon with skin, if that's what available.
The total time does not include the time required to marinate salmon.
Remember that nutritional information is a rough estimate and may vary greatly depending on the products used.
Nutrition Information:
Serving: 1serving
Calories: 394kcal (20%)
Carbohydrates: 8.2g (3%)
Protein: 34.3g (69%)
Fat: 25.8g (40%)
Saturated Fat: 3.7g (23%)
Cholesterol: 78mg (26%)
Sodium: 638mg (28%)
Fiber: 0.7g (3%)
Sugar: 5.1g (6%)
We would like to hear about your problems, questions, and Suggestions. So feel free to contact us.