How to Make Salisbury Steak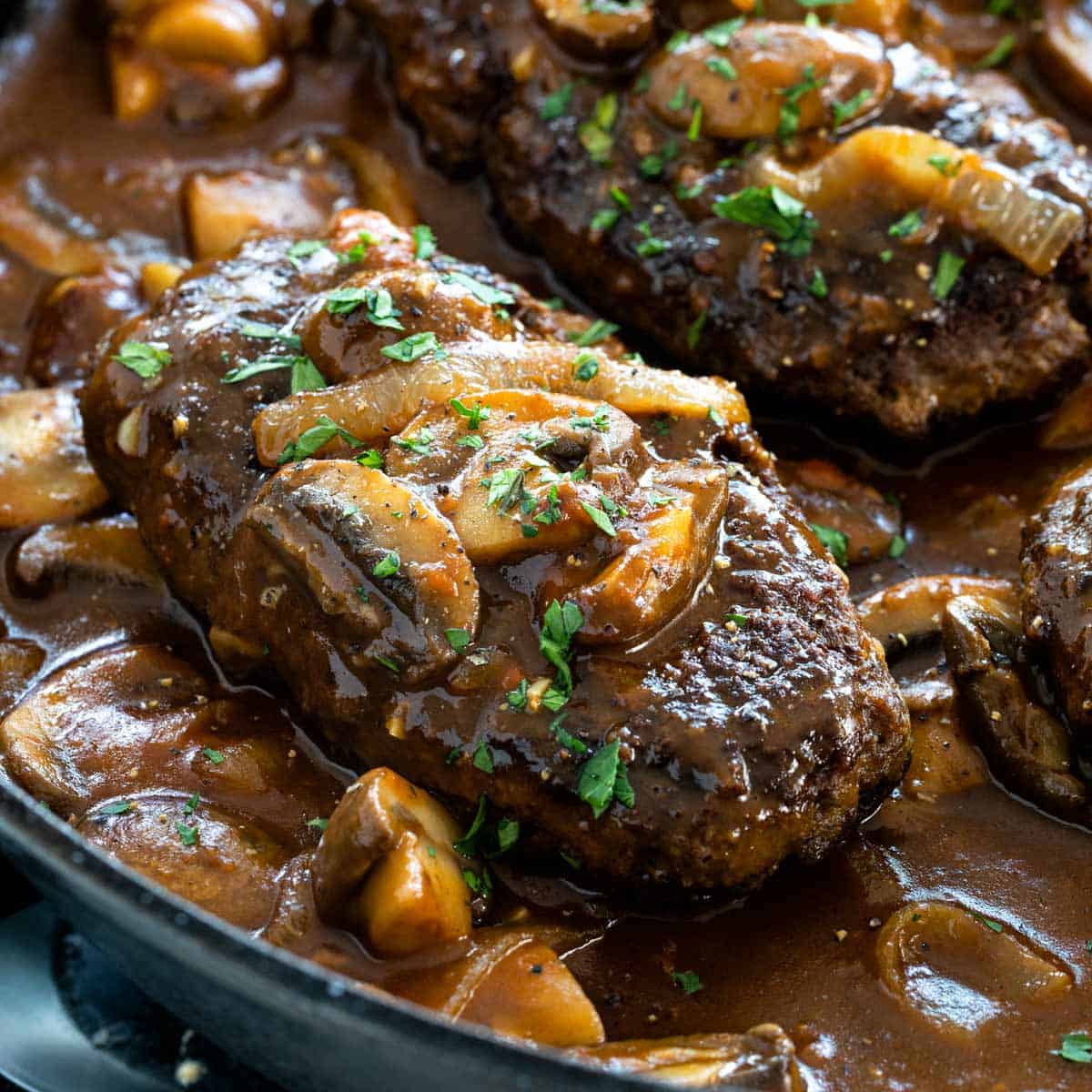 Everyone would love to have a good Salisbury steak recipe for their dinner! Although it tastes like an absolute enjoyment, the meal is made of a simple ground beef patty and a rich mushroom gravy. In this recipe, you will find instructions on how to turn this meal into a frozen meal for your busiest nights.
There are many ways you can make Salisbury steak. Add mustard, chili sauce, fresh, herbs, etc. Here in this article, I'm going to talk about a classic and basic recipe that will be show-stopping all on its own,
but it will give you a lot of room to make changes here and there to make it perfect for your family.
What is Salisbury steak?
This classic dish dates back to the late 19th century and its name comes from an American physician James Salisbury. He spent his career promoting a meat-centered diet and, from which Salisbury steak was born.
At that time When ground meat became more and more popular with its low price, American families soon fell in love with this simple and delicious gravy recipe.
Continue to scroll down to the recipe card to view the complete list of ingredients and instructions.
Ingredients
RECIPE NOTES
Ground beef – I used extra lean meat.
Breadcrumbs – any type.
Eggs – use a large egg.
Worcestershire – use more or less as you like.
Seasoning salt and pepper – seasoning according to taste.
Olive oil – sunflower oil, canola oil, safflower oil or avocado oil also will work.
Butter – I used unsalted.
FOR THE GRAVY
Onion Mushroom Gravy
1 large onion- halved and sliced thinly
8 oz. cremini mushrooms -optional
2 cups beef broth– low sodium
1 tbsp. soy sauce
1 tsp Worcestershire sauce
2 tsp cornstarch
¼ tsp salt -or to taste
¼ tsp pepper -or to taste
1 tbsp. tomato paste
RECIPE NOTES
Onions – white or yellow works best.
Mushroom – I use cremini, also known as baby Bella. White mushrooms can be used instead.
Beef broth – low sodium. If you only eat chicken or vegetables, chicken broth or vegetable broth also will work.
Tomato sauce – you can add more or less if you like.
Soy sauce – normal or low sodium.
Worcestershire – like steak, more or less depending on your taste.
Corn starch – this thickens your gravy.
Salt and pepper – seasoning according to taste.
How to make Salisbury steak
Make the meat mixture: Mix beef, bread crumbs, eggs, Worcestershire sauce, salt and pepper in a large bowl. Make the mixture into 5 equal sized oval patties by hand.
Cook the patties: heat oil and butter in a large saucepan over medium heat, and Add the meat patties and cook in batches if necessary. Cook each side for about 5 minutes.
Make the gravy: turn the fire to medium temperature and add onions. Cook for 3-4 minutes until they are soft. Add mushrooms and cook for another 2-3 minutes until the onions turn golden. Add beef broth, tomato, soy sauce and Worcestershire and stir. Stir cornstarch with a teaspoon of water and add to the pan. Stir well and cook until thickened, about 2 minutes.
End: put the patties back in the pan and spoon the gravy on it. Continue heating for 2 minutes, or until the patty is heated through. Decorate with fresh chopped parsley and serve.
Nutrition Information:
Serving: 1steak
Calories: 382kcal (19%)
Carbohydrates: 12g (4%)
Protein: 35g (70%)
Fat: 21g (32%)
Saturated Fat: 8g (50%)
Cholesterol: 134mg (45%)
Sodium: 743mg (32%)
Potassium: 915mg (26%)
Fiber: 1g (4%)
Sugar: 3g (3%)
Vitamin A: 145IU (3%)
Vitamin C: 2mg (2%)
Calcium: 52mg (5%)
Iron: 4mg (22%)
How to serve Salisbury steak
We all know Salisbury steak is best served with warm buttered mashed potatoes! You can also eat it with rice or egg noodles. If you want to include some sides, try the following recipe:
SALAD:
How to store leftovers
Transfer your leftovers to a sealed container and store them in the refrigerator for 3-4 days. Since the beef is completely cooked, you don't have to worry about overcooking. You can reheat it in the microwave every 20 seconds until it is hot.
If you like, you can also heat it over medium heat on the top of the stove in a pan. I suggest adding a little beef soup to the pan so that the sauce won't decrease too much when the steak is reheated.
Can I freeze Salisbury steak?
If you have leftovers, you want to keep them for another day, transfer them to a sealed container. Make sure to cool it completely before freezing. Frozen Salisbury steak can be kept for 2-3 months. You can thaw your leftovers directly in the microwave, or let them thaw in the refrigerator all night and reheat them on the stove.
If you want to freeze Salisbury steak for later dinner, I suggest you freeze the uncooked Patty on a parchment-lined baking sheet for 2 hours. Transfer them to a large freezing bag or sealed container. Then, transfer the prepared gravy to another container. When cooking, let the patty and gravy thaw in the refrigerator all night. Follow the instructions in the recipe to cook the patty, add the gravy, and enjoy!
We would like to hear about your problems, questions, and Suggestions. So feel free to contact us.