Tropical Leaves and Flowers: How to Use in Your Wedding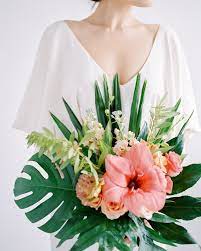 Tropical Leaves and Flowers, Tropical inspiration can be found all over the world, from the bohemian influences of Palm Springs to the beaches and forests of Mexico and has a big wedding decor trend for quite some time. While there are numerous ways to pull off a tropical big day, one of the simplest is to use appropriate leaves and flowers. Joey Corrigan, the CEO of Sticks and Stones Floral Design, discusses the best tropical leaves and flowers to consider and how to incorporate them into your event.
Tropical Leaves and Flowers to Use for Your Wedding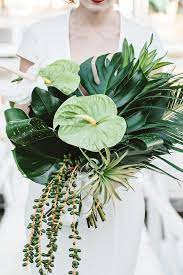 Monstera deliciosa, fan palm, Japanese aralia, croton, palm fronds, Italian Ruscus, and salal lemon leaf are some of the plants Corrigan advises for a tropical, modern, and gorgeous look. The tropics are also brimming with blooms. Such as bougainvillea and its rich, colorful colors. Which incorporate into your wedding decor. "Tropical blossoms appear in every color imaginable, from gentle white to blushing bride protea to the most vibrant reds and oranges of heliconia," Corrigan explains. "Deeply colored gerbera daisies. As well as the vivid leaves of the croton plant, feel tropical as well."
How to Incorporate Tropical Flora into Your Ceremony Structures
Corrigan advises creating a tropical, green ceremonial structure by "carefully choosing the shape of your arch you don't want it to appear like Gilligan's Island!" He explains that the more circular moon gate form will lessen the image. And if you're constructing a chuppah? "Green bamboo poles carve for the uprights and cross bars. with tropical greens bouquets at the upper four corners," he says.
Making a Tropical Flower Wall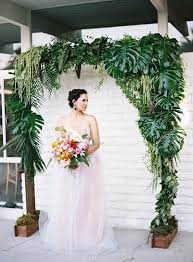 A lush, tropical floral wall can serve as the backdrop for a variety of tables. Including the cake, sweetheart station, and photo booth. Begin by covering the wall with a layer of salal lemon leaf, then add monstera leaves of varying sizes. "Then, for texture and depth, add a layer of palm fronds, fan palms, and Italian Ruscus," says Corrigan.
How to Create a Tropical Bouquet
Tropical blossoms and greenery can be used in a variety of personals, including bouquets, posies, corsages, and boutonnières. Corrigan enjoys creating complementary pieces: "My favorite is a tropical bouquet fashioned from masses of blushing bride protea." The boutonnière for the groom should match.
How to Include Tropical Elements in a Tablescape
Corrigan likes the aesthetic of a long dining table because it allows her to construct tropical runners from end to end. "Start with some fascinating twisting grape wood. Then add leaves and heads from pincushion protea, cockscomb celosia, and different banksia," he suggests. "To add to the plentiful look, use fruit such as pears, mini-pineapple, and kiwi." He says that a tablescape with these tropical components works well in harsh. Sunny surroundings because they don't require water to stay fresh.
FAQ
What type of foliage do you use at weddings?
Greenery wedding bouquets image result in Various Tropical Leaves and Flowers Throughout Your Wedding
Some of the most popular foliage bouquet alternatives include leafy eucalyptus, monstera leaves, and olive branches. Tropical foliage such as monstera leaves, palm fronds, ferns, philodendrons, and banana leaves offer an alternative (and really fashionable!) option.
Do wedding flowers have to match the colors of the wedding?
And, because the bridal bouquet is one of the most significant and visible accessories. Are you wondering if your bouquet must match your wedding colors? Although your bouquet should represent your overall wedding theme. It is not required to include all of the colors used in your wedding décor.
What are some examples of tropical flowers?
Saintpaulia, African Violet THESE ARE THE COLORS:…
Hippeastrum. Amaryllis. COLORS:…
Anthurium. Andraenum anthurium THESE ARE THE COLORS:…
Paradise bird. … Strelitzia reginae
Gaillardia. Blanket Flower.
Scadocus multiflorus, or Blood Lily.
Passion Flower in Blue … Passiflora caerulea
Bougainvillea. glabra Bougainvillea
What flower represents a wedding?
White roses are a popular bouquet choice because they signify purity, innocence, and youth, whilst red roses indicate love, passion, and beauty. Light or dusty pink petals are considered to represent adoration, kindness, and grace, while peach blooms represent sincerity and thanks.
You may also like: 12 Best Luxury All-Inclusive Resorts in the World