How to Remove Blackheads in a Tick, Make Your Own Charcoal Mask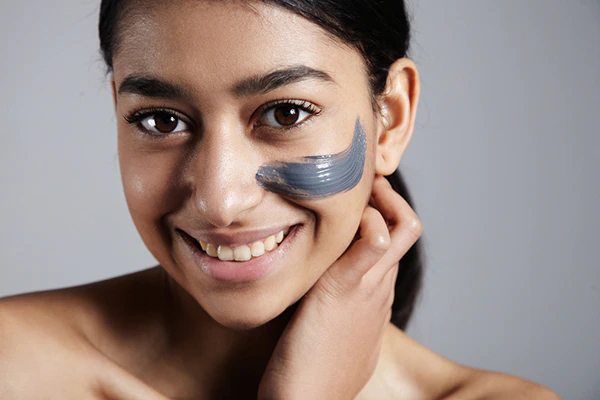 It wasn't long ago that we heard about a new viral face mask that claimed to be the worst enemy of blackheads. You guessed correctly! The mask contains charcoal. However, we soon learned from specialists that they weren't doing your skin any favors because they used harsh adhesives that could hurt it.
However, charcoal is a natural detoxifier that is incredibly effective in removing stubborn black spots and white spots. So, if those pesky blackheads are bothering you, we've discovered a fantastic DIY mask that uses charcoal, Multani mitti, and rose water (all natural skin-loving components) to help you get rid of them for good.
Read : 8 HOME REMEDIES FOR SKIN WHITENING, GLOWING SKIN
This mask is great for oily skin because fuller's earth, also known as Multani mitti, absorbs excess oil while charcoal detoxifies, leaving your face feeling rejuvenated, clean, and silky smooth. To prepare a blackhead-stripping face mask, simply raid your kitchen and gather these materials.
You'll require:
Activated charcoal
Fuller's earth
Rose water (to bind)
How to do it:
In a mixing dish, combine two tablespoons each of activated charcoal and fuller's earth (Multani mitti). To form a fine paste, add rosewater as needed. Apply this mask on your nose, chin, and any other areas where blackheads and whiteheads are visible. Allow 15 to 20 minutes for it to dry before peeling it off. Rinse and moisturize your face. Use this mask once a week to keep your skin clear and smooth.
BB expert tip: If you have dry skin, add moisture-boosting substances to keep your face from drying out. You can make a moisturizing mask with one tablespoon of milk or a few drops of essential oil.
What are some of the advantages of using a charcoal mask?
Activated charcoal can be found in a variety of personal care products, including cleansers, lotions, soaps, oils, and toothpaste. It's also become popular as a component in facial masks.
Although research on the skin benefits of activated charcoal is limited, some skincare professionals feel a charcoal mask can assist your skin in the following ways:
Removes impurities. Some beauty experts feel that a charcoal face mask can help pull pollutants and debris from your skin because research has shown that activated charcoal can absorb toxins in your body.
Reduces acne breakouts. A accumulation of sebum (skin oils) and germs in your pores causes breakouts. If you're looking for natural acne treatment, activated charcoal can help by cleaning your pores of bacteria and other pollutants.
Controls the appearance of oiliness. Activated charcoal can help give your skin a healthy glow without the shine by eliminating dead skin cells and absorbing excess oil.