HOW TO GET RID OF LARGE, RED PIMPLES IN A DAY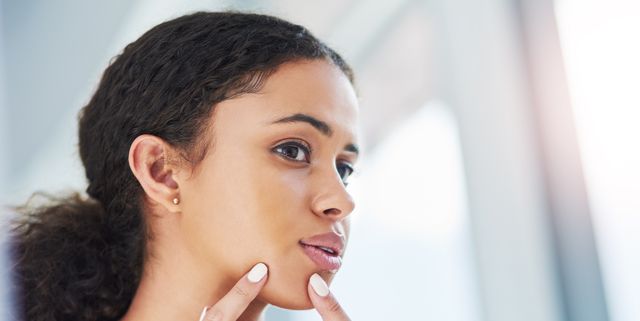 Pimples are a real annoyance! They show up unexpectedly right before a large office party, dating night, or your best friend's wedding. Those irritating (and unpleasant) pimples on your face do everything they can to knock your skincare game down, no matter what you do. But no longer! We have a brilliant tip that will help you get rid of your pimple in the blink of an eye.
You may have tried conventional acne-zapping chemicals like toothpaste or other potentially dangerous ingredients to cure a pimple, or even popped it in a pinch, but it has only caused more harm than good to your skin.
Read : 8 HOME REMEDIES FOR SKIN WHITENING THAT WILL HELP YOU FLAUNT CLEAR, GLOWING SKIN
There's one natural item you may take to reduce the size of your pimple and make it less red overnight. It's aloe vera gel we're talking about! Here's how it works and how you can use it in one night to get rid of a pimple.
You'll require:
Aloe vera gel
Q-tip
Tissue paper
How to do it:
Apply some aloe vera gel immediately to your pimple with a q-tip. Cover it with a piece of tissue paper to keep it from moving around while you sleep. The next morning, you'll see that the pimple has shrunk in size, and the redness is practically gone. This occurs because aloe vera gel has therapeutic characteristics and aids in the drying out of your pimple. Furthermore, applying toothpaste or other similar products is far safer because they contain chemicals that can harm your skin. So, the next time a pimple appears, simply grab some aloe vera gel and show it who's in charge!
How can you get rid of from red pimples?
Break out the Visine to make a pimple less red. Yes, much as eye drops assist to reduce redness in the eyes, they also help to reduce redness in pimples by constricting the blood vessels on the skin's surface. Squeeze the droplets onto a cotton ball and place it over your pimple gently. Color-correct the region with a tiny coat of green concealer before applying your foundation to further reduce the redness of a pimple.
How do you shrink a pimple in the blink of an eye?
There's good news! According to Dendy Engelman, MD, a dermatologic surgeon in New York City, skin is more sensitive to active chemicals at night "since this is when the skin repairs itself." Although you may not be able to completely eliminate a pimple overnight, you can take advantage of this opportunity by treating it while you sleep.
According to board-certified dermatologist Gervaise Gerstner, MD, the first step is to cleanse your skin with an acne-treating face cleanser. Unless your dermatologist specifies otherwise, use a gentle cleanser instead of a wash consisting of sulfates and strong active ingredients if you have sensitive, inflamed skin (which, if you have acne, you almost certainly do). After that, use an exfoliating pad or serum. "If your acne products aren't lying on top of dead skin cells and facial oils, they'll perform better," she explains. Finally, solely treat the pimple with a bacteria-killing benzoyl peroxide spot treatment (read: not all over your face).