Finest Restaurants in Parma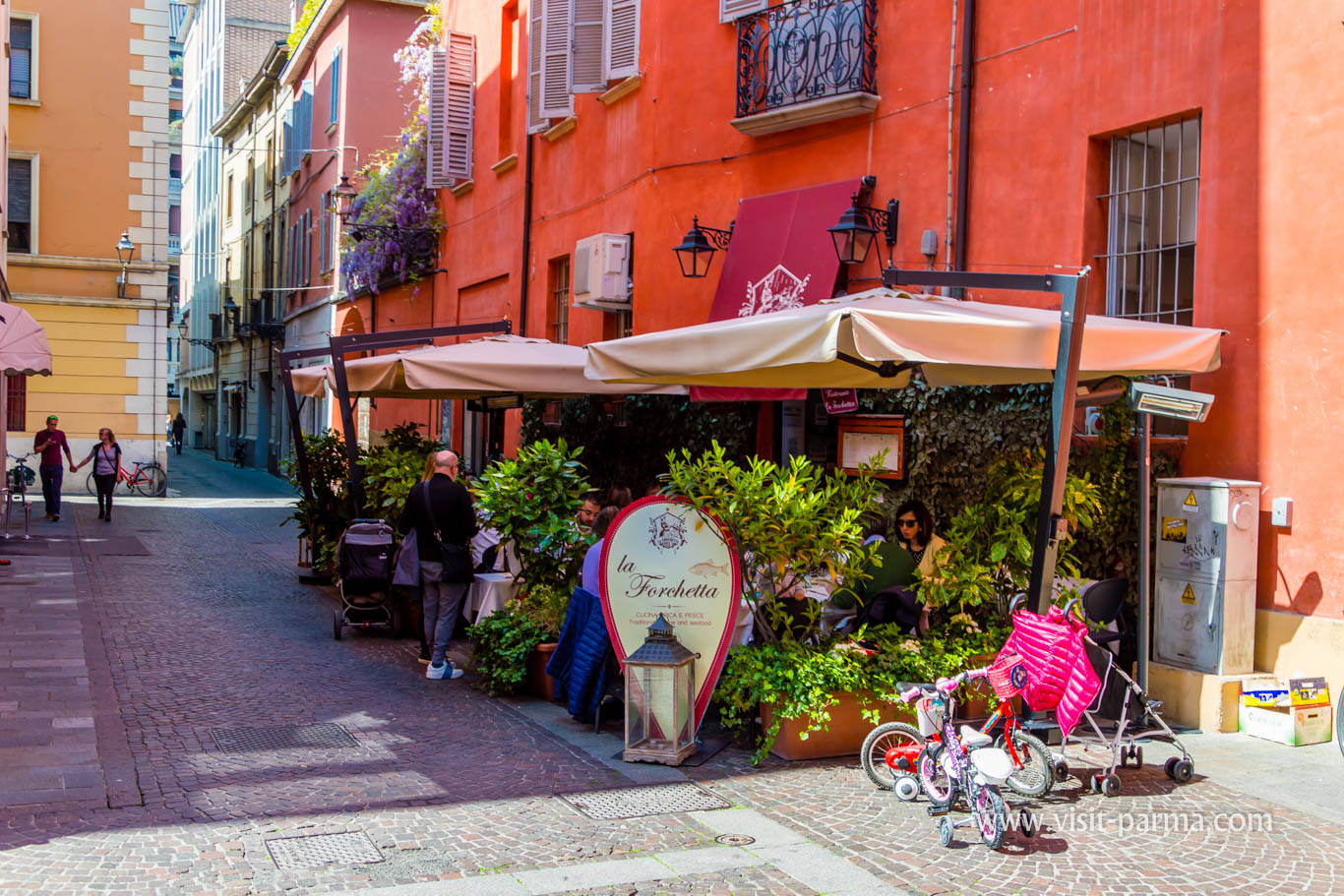 Our first visit has fallen us in love with the food in Parma. It is evident by visiting this gastronomic Emilia-Romagna city on two more occasions to experience and taste its finest food. We could not resist not sharing deliciousness and the experience we had amongst food lovers. That makes us so committed to bringing this overall culinary guide on Parma food. Go through to discover the finest restaurants, cafes, and bars in Parma from our perspective.
Italian cuisines are famous for their simplicity whereas they are much familiar amongst most people.
Proficiently cooked food is the start of the finest Italian cuisine like Pasta then garnish the dish using basic primarily cooked sauce while using the finest ingredients. The sauce is really depth in flavor.
Emilia-Romagna food has a unique combination to its food. for example, a ragu dish serves with stylish sauces which are rich in flavors, and at the same time, they look very appetizing. A simple plate of Tagliatelle serves long with fine paper-thin Tortelli stuffed with an awesome mixture of garden herbs and cheese.
The experience of food is truly an amazing one in the Emilian Province of Parma. They harvest their precious ingredients from the farms in Padan valley which is the most important place in the region. Undoubtedly, Parma restaurants serve classical Italian food but the food in Parma has a very rich culture and passion.
Basically, Chefs in Parma have access to the finest of products from food valley. They don't cook, plate, and garnish food with tomato sauce. also, the combo they make with magnificent cuisines along with the region's finest ink-red wine Lambrusco is a perfect experience to have.
Correggio was a European classical model artist whereas Arturo Toscanini where he was rated one of the most prominent and appreciate musicians from the 20th century and the great opera creator Giuseppe Verdi are some of the well-known artists which left their legacy behind this rich cultural city. Parma is not a city that is famous for artistic work and artists.
Maria Luigia, the duchess of Parma, made this city identical to her wish during the 19th century where she hasn't brought the Austrian culture itself, helped on building world-famous Teatro Regio opera house in Parma. She created delicious pastries which are remaining popular.
Expertise Viewpoint
The best place to experience Parma culture is the Cathedral of Parma where you can witness Correggio's finest drawings "the virgin". Teatro Regio is the major attraction point of the annual Verdi Festival. The government has announced Parma as the Italian Capital of Culture for 2020 due to its prestigious art.
What to Eat in Parma
This entire city has been declared as a UNESCO site honoring its rich food culture. There is no surprise of that recognition because the city's very rich food culture right to earn it.

Parmigiano Reggiano is the world's finest cheese also, unconditionally the king of cheese which comes from the Province of Parma. This area is famous for Prosciutto and Culatello basically cured meat. The majority of the exclusive cuisines in Italy originated in the area of Parma therefore if you want to try fine Italian cuisines come to this city.
Lambrusco the red glittery wine is an attractive drink of the province moreover, we can have it with meals except for breakfast. If someone can better convince us will have Lambrusco at breakfast. You could have some Venice cocktails if you are not interested in Lambrusco.

When Italy comes to your mind then pasta is the next thing that pops up unintentionally. Barilla is the world's largest pasta manufacturer where it has situated its headquarters in Parma though locals and restaurants used to have freshly made Anolini, Tortelli, and Tagliatelle. We tried beefy Anolini in Brodo with pumpkin-filled Tortelli and many different variants of local favorites but one thing is for sure, Food in Parm has never let down us even once.
Expertise Viewpoint
If you really want to experience the Parma food then schedule a food tour on your arrival. Alice Rossi who is a Parma tour guide could be the best way to explore Parma Food Tour. You will probably get to know local specialties and be escorted to some of the places mentioned in this guide.
Cuisines fromParma
During our initial visit to Parma had barely enough time to sharpen our taste for extensive culinary joy. That forced us to return two more occasions and engaged ourselves in this wonderful food culture. We enjoyed everything from breakfast pastries to dinner as well as late-night drinks. That makes us come up with this wonderful article on Cuisines from Parma.

We were excited and at the same time felt drained while preparing this food guide. We got attached to this city in many ways other than this rich food culture. Definitely, we will come back to this city and fill our hungry souls first. Besides that, we will update this guide too.
Best Parma Restaurants
The city of Parma is ranked 18th amongst the biggest cities in Italy which are having plenty of restaurants to dine in both locals and tourists. There were plenty of star-class restaurants in the city limit along with far corners of the city. Eventually, we found our treasured restaurant outside the city line.

Go through the review of restaurants and however, see who makes it to the top of the list.
Trattoria Ai Due Platani
Initially, we were obsessed to leave the city because it resides plenty of restaurants that can provide us plenty of meaty meals at any time of the day. We walked into Trattoria Ai Due Platani in nearby Coloreto and it took us to another level of meaty food.

If you hire a taxi, Ai Due Platani is a 15-minute drive but if you walk it takes 90 minutes and a bus ride takes 50 minutes. You never regret your special journey to this finest restaurant.

What we chose was, we took a 25-minute bus ride to Savino then decided to walk. You don't find sideways during this final stretch and it took us 25 minutes along roads. We recommend using a cab if you are not a fan of dodging vehicles.
Trattoria Ai Due Platani looks casual in its appearance with red checkerboard clothes and warm service. Chef Matteo Ugolotti and his members can significantly cherish your memory using the finest Parmigiano with locally picked supreme ingredients.
As mentioned, Ai Due Platani is a casual restaurant with common Italian cuisines, but the care and details in each preparation differ from other restaurants.
Our lunch consists of delicious, simple-looking dishes but used a high level of skills to retain both texture and flavor.

After leisurely progressed our meal comprised of Culatello, Prosciutto, and Salumi similar to what we ate in Parma, a new order was placed for a portion of Tortelli. This time we asked for half of the pumpkin and the rest to include cheese and herbs.

We ordered tagliatelle and asked to serve with Porcini rather than go for Ai Due Platani's ragu where forced to hold our seasonal theme after the server appeared with a bucket full of Porcini mushroom. We both agreed to have ragu during another visit.
Emilia-Romagna is a place where you can taste Porcini mushrooms and truffles commonly in the autumn. As an American, you don't get a chance to eat Porcini mushrooms regularly.
Porcini is so deep in its foresty flavors where we haven't had something like that. Tortelli is made out of very thin crispy dough that produces a sweet taste with rich pumpkin filling. Master pasta maker was responsible for this type of cooking.
To bring our experience on the main course, we unwillingly did not order Vitello Tonnato. This is made out of young calf flesh, garnished with tuna sauce, and extremely large grilled steak. Though loved the proficiently cooked rare lamb chops, dressed with a sauce made in the Tuscan town Maremma, accompanied with carrot puree and purple potatoes.
Here you get memorable meals ranging from starters to desserts. We got freshly made zabaglione gelato. It's like a mountain colored in Sunbright yellow. The gelato was accompanied by few toppings such as chocolate sauce, chocolate pebbles, and sugarcoated hazelnuts with two types of liquor. One had made out of herb and spices named Borsci with colorless Orange flavored liquor called Cointreau. All of these were wheeled to our table by a Mattia Serventi server then start to make sundaes for us to enjoy.

We can recommend to all the restaurant lovers reading this article as one of the best dessert services.

The restaurant owns its branded lavender flavor Lambrusco makes a strong aroma while tasting. You don't get half a bottle of such deep red, best quality Emilian wine for €5.50 anywhere.

Trattoria Ai Due Platani is reasonable in pricing for both we spent €79 for such a meal. Surely we will be returning to this wonderful city and one thing we can't figure out is what to choose from this incredible menu.
Expertise Viewpoint
If you have any plans to visit Trattoria Ai due Platani, We suggest you reserve your table in advance especially for Dinner because it's always full. Lunch is not crowded but make sure to place a reservation before your visit.
Location:
Trattoria Ai Due Platani
Strada Budellungo,
104 / a,
43123 Coloreto PR,
Italy.
Ristorante Cocchi
You want to be in a classic Parma restaurant be at Ristorante Cocchi.
The restaurant started its operations in 1925 and the founder was Paide Cocchi. During the last 50 years, Corrado (son) and Daniele (grandson) have continued operations with their signature classic Parmigiano dishes. The restaurant moved to a new location which is not far from Oltretorrente location where it was before 1970.
In a dining area decorated with gold-framed paintings and futuristic recessed bookcases, the restaurant, which is located on the 'other side of the Parma River, reveals a feeling of humorous, practical, eighties-esque formality. This is a place where businessmen and women meet for power lunches and fill themselves with food such as pasta and meat in between meetings.
As for us, we went to Ristorante Cocchi for the food. The waiter staff welcomed us warmly despite our casual attire and lack of Italian skills, handling our questions seamlessly as they guided us through the menu that's become a Parma classic.
We, on the other hand, dined at Ristorante Cocchi. Despite our casual dress and lack of Italian skills, the wait staff greeted us cheerfully and patiently answered our questions as they walked us through the menu that has become a Parma staple.
There are nine different types of cured pork starters available at the restaurant, according to our count. When deciding between classic Proscuitto, Culatello, or Strolghino, a classic Parma salumi made with ground culatello beef, we recommend going with your gut instinct. We also recommend serving your salumi with a slice of Parmigiano Reggiano and a dish of Gnoccho Frito, a pillowy Emilian fried bread found in most Parma eateries.
We tasted packed pasta nuggets of Anolini that arrived floating in a savory accompany with meaty brodo – an impressive delicacy, warming blend of beef and chicken broth that warmed us from the seasonal chill – after eating locally sourced salumi and Parmigiano Reggiano cheese. They served Tortelli with perfectly seasoned porcini mushrooms but a large quintity of grated Parmigiano Reggiano was the eye-catcher.
We split a meat-alicious plate of Bollito Misto for our main course, keeping with the seasonal theme. We finally got the enjoyable tableside service we missed while dining bolito in Verona with this dish, which consisted of a plate of hand-carved roasted meats like Cotechino, beef, and hog, as well as creamy mashed potatoes, verdant salsa verde, and golden orange spicy mostarda.
During the summer, Bollito Misto is not available. To put it another way, if you want to taste the best of Parma cuisine, go to Ristorante Cocchi between October and April.
Expertise Viewpoint
Ristorante Cocchi is honestly a meat lover's paradise hence worthwhile to leave your vegetarians' people at home.
Location:
Ristorante Cocchi
Viale Antonio Gramsci,
16/A,
43126 Parma PR,
Italy.
Angiol d'Or
Angiol d'Or proves that guests can eat well in the center of Parma due to its strategic location right next to the enormous, medieval Parma Cathedral. The upmarket location at Angiol d'Or has a contemporary feel with sweeping glass windows and exposed stone. The meal is delicious, and the service is respectful and efficient.
Expect a menu full of Parma culinary classics including Culatello, Parmigiano Reggiano, and Pasta when you dine at Angiol d'Or. Although the restaurant's hallmark beef tenderloin "Rosa di Parma," stuffed with Parma Ham and Parmigiano-Reggiano cheese, vegetarians and pescatarians will find plenty of choices on a menu that includes meatless plates of pasta and fish dishes.
We had an amazing bowl of Anolini in Brodo as well as Veal in a wine reduction chopped olives sauce and salsa verde during our lunch. The most delicious dinner is the creamy white Polenta Pudding appetizer. It comes along with red beet cubes, tangy gorgonzola fondue, and sage leaves.
Expertise Viewpoint
Don't regret yourselves overeating at Angiol d'Or because it has some of the finest desserts. Those come with a variety of modern sweets and appetizing alcoholic beverages.
Location:
Angiol d'Or
Via Scutellari,
1,
43121 Parma PR,
Italy.
Other Parma Restaurants
Due to the prime location of the Emilia-Romagna food valley, the chefs in this Parma region have the opportunity to access premium quality food products in Italy.
Parma has many restaurants that serve good food and we suggest visiting the following:
Ristorante La Greppia
La Greppia's menu is there for decades but no one wants to change it. The menu consists of century-old delicacies favored by Napoleon's wife Maria Luigia. Presently, Chef Filippo Diego is leading the kitchen but the restaurant's heritage continues.
La Greppia's dining area is more traditional than stylish, with several comfortable tables where diners may enjoy local favorites for lunch or dinner. Diego and his crew happily prepare meals in a kitchen located behind the back glass window of the dining area.
Food lovers who like traditional Parma cuisines should visit Ristorante La Greppia because they serve Parmigiano Reggiano cheese matured for 12, 24, and 36 months. Also, meals covered with Parma Ham, Culatello, Coppa, and Salumi. Artichokes in Mornay sauce or Veal Tongue with Chestnuts and Black Truffle are two options for customers who look for more excitement in their food.
The primary menu at La Greppeia is inclusive of Parma traditional cuisines like Tortelli, Anolini, and Tagliatelle. We ordered the restaurant's inventive thin green Taglione and crispy Culatello also, Pork Chops with seasonal Porcini Mushrooms and black garlic.
Expertise Viewpoint
Ristorante La Greppia's substantial list of wines is not to skip during your meal.
Location:
Ristorante La Greppia
Strada G. Garibaldi,
39,
43121 Parma PR,
Italy.
Osteria dello Zingaro
Osteria dello Zingaro, a vividly painted Parma restaurant near the city's cathedral, is popular with locals. The casual café serves traditional Emilia-Romagna fare such as pumpkin or spinach-stuffed tortelli, as well as sliced meats such as Culatello, Prosciutto, Culaccia, and Spala Cotta.

We had Cavallo (horse meat), a native special dish to this restaurant, instead of the customary menu during our supper at Osteria dello Zingaro. Mindi had Insalatona Zingaro salad with artichokes, boiled potato, tomatoes, and Cavallo tartare, while Daryl had Roast Beef di Cavallo with roasted tomatoes.
If you prefer Tortelli di Erbette to Cavallo, the restaurant will not judge you. True food adventurers, on the other hand, will celebrate the opportunity to try a local delicacy that isn't available in their native country.
Expertise Viewpoint
Osteria dello Zingaro is a place that suits your budget because a bottle of water and a carafe of wine was included with our €35 evening meal for two.
Location:
Osteria dello Zingaro
Borgo del Correggio,
5/B,
43100 Parma PR,
Italy.
Il Trovatore Ristorante
Il Trovatore Ristorante, which has been open since 1998, pays homage to roaming minstrels while honoring Parma's tradition. If you stop by Il Trovatore for a dinner during your visit to Parma, you can expect a classic cuisine with plenty of seafood and meat options. Vegetarians will also be able to request food.
We had a hearty meal at Il Trovatore with a large party, which was accompanied by sparkling Lambrusco wine. The saucy lasagna slabs and creamy tiramisu were the highlights of the meal.
Expertise Viewpoint
If you visit the restaurant on a sunny day recommend sitting outside the terrace of it.
Location:
Il Trovatore
Via Ireneo Affò,
2/A,
43121 Parma PR,
Italy.
Parma Pizza
Naples and Rome are cities that are famous for their pizza. However, culinary tourists who pay more attention will find excellent pies in locations such as Verona, Modena, and Parma.

We hunt for the best pizza in every city we visit since we are true pizza enthusiasts. Continue reading to learn about our favorite pizza in Parma.
Oven
An oven isn't your standard Parma pizza place, with meter-long utensils on one wall and moss on the other. The Oltretorrente restaurant is a short walk from Parma's historic center and provides some of the tastiest Neapolitan pies we've had in Northern Italy.
We ate two delicious pies at Oven throughout our supper, both topped with fantastic local Parma vegetables as well as elements from Campania in southern Italy.
Prosciutto and stringy Stracciatella cheese, as well as Campanian Red Piennolo Tomatoes, Olive Oil, and Fresh Basil decorated the Crudaiola pizza. With its soft crust, spicy small shoaling fish, and bright yellow piennolo tomatoes, our second pie, aptly dubbed Napoli 2.0, brought back memories of our stay in Naples.

The oven features specialty cocktails like the renowned Rosemary Tonic, a G+T prepared with premium gin, tonic, rosemary, and pink grapefruit, in addition to its great pies. The little pizzeria's craft beer collection, which includes our favorite, Greendew Saison beer created in nearby Fontevivo, will not disappoint beer fans.
Expertise VIewpoint
Oven's website is enabling online reservations.
Location:
Oven
Strada Nino Bixio,
52 / A,
43125 Parma PR,
Italy.Cafes at Parma