12 Best Oils for Hair Growth and Thickness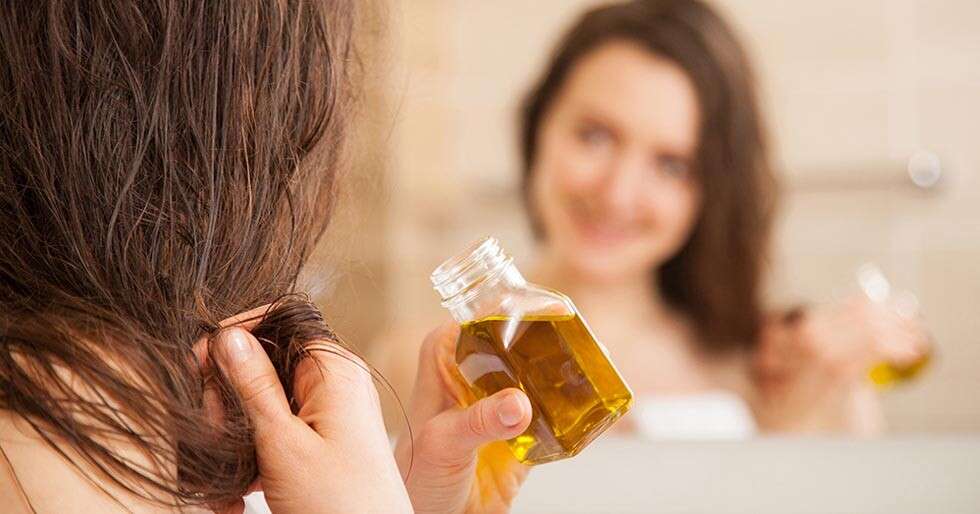 Always dream about long, healthy, and shiny hair? And don't know how to get it? We have the best oils for hair growth, which not only promotes hair growth but also helps to alleviate the luster, smoothness, and overall health of hair and combat problems such as split hair ends and dandruff. Don't you think there's anything better? Indeed, because all the oils we recommend are absolutely natural, have no side effects, and are easy to buy in the market.
Yes, your mother and grandmother seem to be right. Oiling your hair twice a week and leaving oil overnight is the best way to nourish and care for your hair.
It seems fad to adopt a healthier lifestyle, but it simply promotes a better diet and uses locally produced organic products. The same trend applies to beauty products. This kind of beauty product has also become popular rapidly and has become the characteristic of DIY family prescriptions and items. There are so many products on the market that we often want to know which one to buy and which one to use. This informative guide will help you choose the right hair oil according to your hair type.
Good hair oil can stimulate hair growth, fight dry scalp and dandruff, repair damage, increase luster and nourish hair. The best starting point is to first understand your hair type and quality, and what you need to repair. You can also try mixing these oils.
Let's see how to make herbal hair oil at home by watching this video.
1. Best Oils for Hair Growth Is Coconut Oil
As you might guess, coconut oil comes from coconut. It is one of the most common essential oils available and is also good for the skin. Coconut oil contains a large number of fatty acids, which allows oil to penetrate deep into the hair follicles without evaporation. It also contains carbohydrates, vitamins, and minerals vital to hair health. Purchase pure oil without any additives and mixtures. You can try mixing some herbs, such as simple curry leaves, Brahmi, or Amla, and heat the oil before applying it. Coconut oil has several different varieties, such as refined oil, unrefined oil, and extra virgin oil. It is one of the best oils for hair growth.
Benefits: coconut oil has many benefits, including preventing heat damage and repairing damaged and broken hair. Regular use also helps prevent hair loss and promotes healthy hair growth and scalp health. The healthier the scalp, the better the hair. Coconut oil improves the appearance of hair by helping hair to maintain moisture and increase beautiful and healthy luster. Many coconut oils also have a delicious coconut aroma, which makes hair smell good. Coconut oil can also be used as a conditioner because it is rich in vitamin E and antioxidants.
Usage: as mentioned above, use organic products without additives as far as possible. Since coconut oil is solid at room temperature, heating coconut oil will soften coconut oil and make it easier to use. For people with greasy scalp: apply to the hair, excluding hair roots. For people with dry scalp: apply to the hair, including hair roots. Leave it on for at least 30 minutes and rinse it with your usual non-alcoholic shampoo. If you are adding curry leaves, let them burst in hot oil before turning off the heat. Wait until it gets warm before applying it. People with dry scalp should massage oil into the hair roots and scalp. Use coconut oil to care for your hair once a week to help protect your hair from damage and keep your hair healthy and shiny.
Suitable for: All types of hair, especially dry, damaged, or dull hair. Coconut oil is effective for those who want to repair brittle hair and hair with split ends and is recommended for people with slow hair growth. People who want to soften their hair should use this oil regularly for a period of time to get the best results.
2. Best Oils for Hair Growth Is Argan Oil
Argan oil, also known as Moroccan oil, is extracted from nuts produced by argan trees Recently, this oil has taken the beauty industry like a storm because it is good not only for hair but also for the skin. Argan oil is known as "liquid gold" because of its dark gold color. It is rich in fatty acids, antioxidants, and vitamin E. Mostly, oil has the least processing, so it is the most natural for healthy hair and rapid growth as it does not contain many chemicals and additives.
Advantages: this oil has a moisturizing effect and hydration ability. It repairs damaged hair and protects hair follicles from further damage by high temperatures and ultraviolet rays. As we all know, Argan oil can treat split ends of hair. Another advantage is that it won't make your hair too greasy.
Best fit: those with dry, fragile, fizzy, or rough hair should choose argan oil. If you often use straighteners, curlers, and hair dryers to heat your hair, it's a good choice for you.
Usage: Argan oil is viscous, but not greasy like coconut oil. If you need you can use argan oil more frequently, even every other day. The oil can be directly applied to the hair from the bottle. Just drop a few drops on the palm and then apply it to the hair to avoid hair roots. You can also use it to make a hair mask. Argan oil can be used for dry or wet hair as a quick anti- fizzy treatment.
3. Jojoba Oil
Jojoba oil, pronounced as ho-ho-ba, is a product of Jojoba plants. This oil is very suitable for hair because it has many features in common with sebum (the oil naturally produced by the scalp). It does not affect the natural balance of the scalp. Jojoba oil is a good moisturizer because it can penetrate into the hair stem and hair follicles from inside to outside. Jojoba oil also has an antibacterial effect and has several healing properties. Regular use of jojoba oil will make your hair less fizzy and give it rich luster. The best part is that it promotes hair growth by helping new hair cells grow. It can prevent dandruff, thereby reduce hair loss and protect hair.
All-natural, unrefined jojoba oil is the best type for hair and skin because it contains no chemicals.
For: Best for those who want to increase hair growth rate and people who have dry, damaged, or dull hair, and hair with dandruff and dry scalp problems.
Efficacy: Jojoba oil moisturizes hair, prevents dandruff and dry scalp, and makes hair soft and shiny.
Usage: Jojoba oil can be used in several different ways. It is viscous at room temperature and can be poured. As a leave-on treatment, you can apply it to the scalp before shampoo and stay for 30 minutes or more. You can even leave it at home for the night. Try adding a few drops of conditioner or apply it directly to the end of your hair after shampoo.
4. Almond Oil
Almond oil is good for skin and hair. It contains the highest levels of natural vitamins. Almond oil comes from the nuts in almonds. Almond oil is good not only for cooking but also for your hair. It contains vitamin E, fatty acids, protein, and antioxidants, as well as magnesium, which can reduce hair breakage and help hair grow. People who lack minerals are prone to slow hair growth and hair loss, so adding some almond oil to your diet can also greatly help solve these problems. Whether used for cooking or beauty care, all-natural almond oil is the best because there are no chemicals added.
Suitable for: dry and damaged hair, hair prone to dandruff, and hair with slow growth or hair loss.
Efficacy: almond oil moisturizes, seals, and protects hair, and prevents hair loss and fracture. Using it often can help you grow longer and stronger hair.
Usage: almond oil is sticky at room temperature. Heat one tablespoon of oil and rub it into the scalp. You can leave it open overnight and wash it the next morning. You can also use almond oil after shampoo to restore hair moisture and prevent hair from breaking and split hair ends. Rub a few drops on the palm of your hand and then on the towel-dried hair. Combing the oil through the hair, and let the hair air dry, make the hair shiny without tangles.
5. Olive Oil
Olive oil is another extremely versatile oil extracted from pressed olives and has protective and moisturizing properties. Because olive oil covers the hair stem and protects keratin, olive oil has a protective effect. When mixed with lemon juice, it also has exfoliating and anti-dandruff properties. If used frequently, olive oil can replace conditioner and other hair care products. Olive oil is rich in vitamin E, it is conducive to hair growth, and the oleic acid in the oil can lock in the moisture. Organic extra virgin olive oil is the best because it is rich in natural antioxidants and contains no chemical components.
Suitable for: damaged, dull, dry, or curly hair, and hair which prone to dandruff.
Efficacy: olive oil can prevent heat damage, give a smooth appearance and luster to hair, moisturize damaged and broken hair and make it look healthy.
Usage: you can use olive oil once a week for dry and wet hair care. Apply one or two tablespoons of olive oil to your hair and cover your hair with a shower cap for about 30 minutes. After that, be sure to wash your hair thoroughly and rinse it with cold water. A hair conditioner is not required after olive oil treatment. Olive oil can also prevent dandruff when used with lemon juice every other week. For this treatment, mix a few tablespoons of water, olive oil, and lemon juice. Rub it on your scalp, hold it for 20 minutes, and then wash your hair
Learn more about how to use olive oil for hair growth by watching this video.
6. Best Oils for Hair Growth Is Grape Seed Oil
Grapeseed oil is the extract of cold-pressed grape seeds and It contains emollients, antioxidants, and nutrients, which are essential elements for the growth of healthy hair and skin cells. Although grape seed oil has the same moisturizing properties as many other natural oils, it has advantages in treating weak, brittle, and fragile hair and hair loss. It is also an effective anti-dandruff and dermatitis agent, which can help people regenerate their hair. When used in cooking, this light, and versatile green oil are also good for heart health. Pure natural grape seed oil is the best choice for cooking, skin, and hair care.
Suitable for: dry, dull, and fragile hair, greasy, and dandruff-prone hair. It can also effectively prevent hair loss.
Efficacy: Grapeseed oil moisturizes and regulates hair. It can also make hair strong and healthy, and effectively treat split hair ends and fizzy hair. Grapeseed oil helps fight dandruff and reduces scalp inflammation in patients with dermatitis. In addition, it can prevent the production of DHT, a hormone that causes hair loss. The high concentration ratio of vitamin E in grape seed oil promotes the production of linoleic acid, which helps restore the strength and luster of fragile hair.
How to use: compared with many other products in this list, the grapeseed oil is lightweight and suitable for frequent use. It also has no smell. As deep conditioning, apply a few tablespoons of grapeseed oil to your hair and keep it for 10 minutes. Rinse your hair with cold water to make it shiny and moist. When treating dandruff, rub the oil directly onto the scalp and let it be absorbed. As night care, apply warm grape seed oil to your hair, cover it with a shower cap or towel, and wash it off the next morning. Grapeseed oil is also a good essential oil carrier oil, which helps to relieve stress and relax hair follicles.
7. Best Oils for Hair Growth Is Lavender Oil
Lavender oil is an essential oil extracted from lavender flowers and Research shows that local use of lavender oil can promote hair growth. It increases the number of hair follicles on the head and makes the hair fuller and thicker. It also has antibacterial and antiseptic properties and is very suitable for patients with dandruff. When used to massage the scalp and mixed with a carrier oil, it can improve blood circulation, stimulate hair growth, and even prevent hair loss. When the scalp is treated with lavender oil, the growing hair follicles take root deeper, resulting in less hair loss.
Suitable for: All types of hair, especially greasy front and back hair and dry scalp in other parts.
Efficacy: lavender oil can promote hair growth without side effects caused by other local hair growth products. oil Prevent hair loss, moisturize the scalp and balance sebum production and Its frequent use will make the hair fuller and thicker. Lavender oil not only has many benefits for hair and scalp but also has been proved to relieve stress, which is also one of the reasons for hair loss. Lavender oil also has a unique and pleasant aroma.
Usage: as lavender oil is an essential oil, so mix it with a carrier oil such as hot olive oil or coconut oil before applying it to hair and scalp. If used for scalp massage, mix 8 to 10 drops of lavender oil with two tablespoons of carrier oil and massage the scalp. Keep it overnight and cover your hair with a towel or shower cap. Wash your hair in the morning. You can also drop a few drops in your shampoo or conditioner to make your hair moist and smell good.
8. Best Oils for Hair Growth Is Lemongrass Oil
Lemongrass oil is an essential oil extracted from the very fragrant herb Poaceae grasses and It contains many vitamins and minerals beneficial to hair. This oil has a therapeutic effect and can well treat all kinds of hair and scalp problems. Lemongrass oil has also been shown to enhance hair follicles, prevent and reduce hair loss.
Suitable for: All types of hair, but especially suitable for people with dry scalp and dandruff. It can also strengthen then hair follicles.
Efficacy: lemongrass oil has antifungal and antiviral properties, and can effectively alleviate dry scalp and dandruff. It has been proved that it can inhibit dandruff caused by yeast problems. Lemongrass oil can also prevent hair loss and make hair healthy and shiny. It smells fresh and clean. It is a well-known depressant.
How to use: Just add 10 drops of lemongrass oil to two tablespoons of carrier oil (such as coconut oil or olive oil) and massage your hair and scalp. You can add about 10 drops of lemongrass oil to your shampoo or conditioner. When used as a scalp massage, apply two or three drops of lemongrass oil along with conditioner to your hair. Remember, do not apply essential oils to the scalp or skin without a carrier such as olive oil or coconut oil.
9. Best Oils for Hair Growth Is Sesame Oil
sesame oil is Extracted from the popular sesame seeds and It is rich in vitamin E and is good for skin and hair. it is used in many Ayurvedic hair growth therapies. Sesame oil has antibacterial properties and can use in treatments for infection on the scalp.
Advantages: promote hair growth work as a conditioner for hair, nourish the scalp, and good for treating dandruff
Perfect for: sesame oil is suitable for all types of hair but especially good for those who are looking for regeneration after hair loss and want a smooth luster.
Usage: for effective results better to use hot sesame oil. You can heat the oil and apply it to your hair and scalp and leave it overnight. Also, you can add some curry leaves to oil or herbs like Amla for effective results.
10. Best Oils for Hair Growth Is Tea Tree Oil
Tea tree oil is extracted from tea trees and It has strong cleaning, antibacterial and antibacterial properties. Tea tree oil is a component of most hair and skincare products.
If you have oily hair, you may think that hair oil is not the answer to hair growth, but this is not the case. Tea tree oil can help you get a clear complexion by removing dead skin cells and bacteria that cause acne. Similarly, tea tree oil can also unclog hair follicles and sebum. At the same time, it can promote hair growth and remove any scalp problems through the combination of cleaning, antibacterial and antibacterial properties.
Advantages: as long as you use it properly, you can use this oil to clean and unclog hair follicles and promote hair growth. It is also known for its ability to soothe and relieve pain.
Suitable for: suitable for all hair types, but if you are allergic to strong essential oil, avoid it. It is ideal for those who want to repair hair follicles and hair.
Usage: mix 2-3 drops of tea tree oil with two tablespoons of carrier oil. Apply it to your hair and scalp and wash it off after half an hour. You can also mix 10 drops of tea tree oil into your shampoo or conditioner and use it regularly.
11. Best Oils for Hair Growth Is Castor Oil
This viscous oil has many properties. Rich in vitamin E, protein, and minerals, it has miraculous effects on hair. It helps remove dandruff, and ricinoleic acid helps reduce scalp inflammation.
Advantages: castor oil can not only moisturize and soften hair but also help to maintain the water level and blood circulation, so as to accelerate hair growth.
Most suitable for: Patients with a dry and flaky scalp.
Usage: apply it evenly on the scalp, pass it through the hair, leave overnight, and wash it thoroughly the next day. It's hard to wash off because it's thick. Regular use of castor oil can make your hair healthy, thick, shiny, and moist. You can also mix it with sesame oil to reduce the viscosity. Just mix the two oils in a bowl, heat a little, and then apply them to your hair and scalp.
12. Best Oils for Hair Growth Is Rosemary Oil
If you want to stimulate hair regeneration and promote scalp health, rosemary oil can work miracles. You must use herbs and carrier oil to make this oil. It's good for hair growth. It has been known for centuries that it has been used in many cultures to promote hair growth and delay the occurrence of white hair.
Advantages: Rosemary oil stimulates the blood circulation of the scalp. Simmer rosemary leaves with water and wash your hair every day to keep the hair fresh and retain hair color.
Suitable for: All types of hair, especially thick hair, and rich colors.
Usage: heat some olive oil or coconut oil with fresh or dry rosemary leaves. Allow the oil to retain the herbal extract, cool, and then filter. You can store this oil and put it on your hair overnight.
FAQs: Best Oils for Hair Growth
Q. is there a special way to apply hair oil to ensure hair growth?
A. Dr. Sule said: "It is better to apply hair oil at least twice a week. Massage with warm oil for 5 to 10 minutes. This helps to increase the blood flow to the hair bulb. After applying oil, wrap it with a hot towel or do steaming to help increase the penetration of oil in the deep layer. Stay overnight or keep 20-30 minutes before washing your hair. "
Q.What should I look at when buying hair oil?
A. It's best to know what's in it, so please read the ingredients. Stay away from chemically treated products and try to use natural ingredients. Check which oil is best for your hairstyle and choose accordingly. If you want to mix two or more oils, you'd better do it yourself instead of choosing products from stores. If what you buy doesn't work for you, change it immediately. It's best to reduce the quantity of the ingredients while you're still trying and testing.
Q. what precautions should take when using essential oils?
A. Do not apply the essential oil directly to the hair or scalp because the essential oils are strong. They may cause a burning sensation in some skin types. Always use it with carrier oils such as olive or coconut oil, or in shampoo or conditioner. If you are using a new essential oil for the first time, make sure to put a drop of essential oil on the skin near the inside of your elbow to check if you have any reaction. Finally, limit the use of essential oils.
We would like to hear about your problems, questions, suggestions. So feel free to contact us.