10 Factors to Consider While Developing an Android App for Healthcare Industry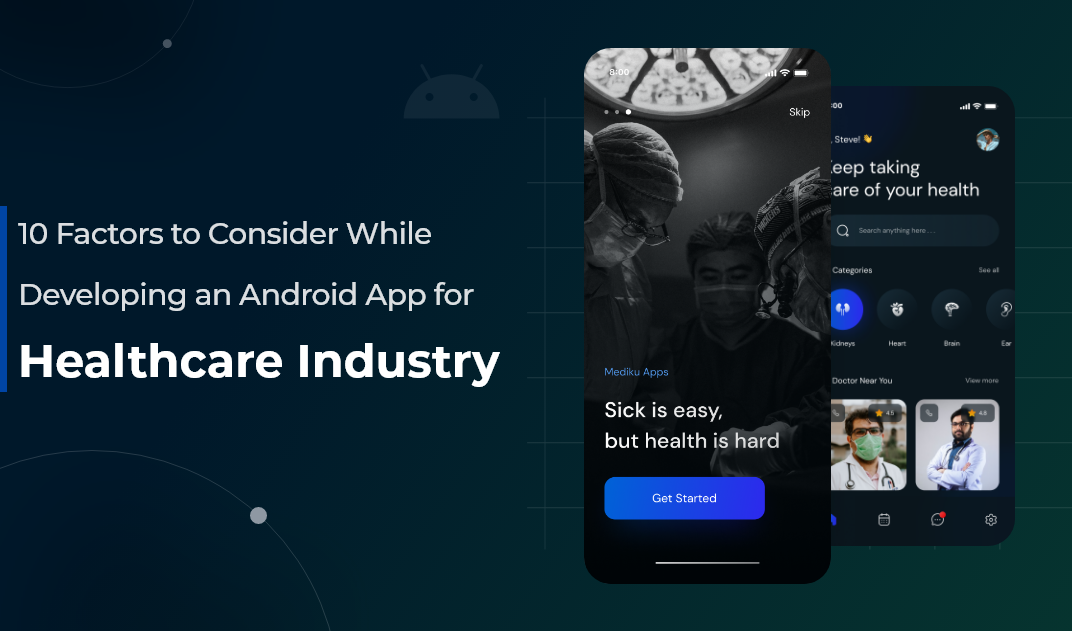 The development of Android apps is dominating the market. These apps have helped people to make their work easier. People can get things they wish to have in just a few clicks. Then why not healthcare services?
In today's era, various mobile apps are serving the healthcare sector. Using these healthcare apps, people can consult medical experts, get test reports, order medicine, etc. Android apps are very beneficial in the healthcare industry as they provide remote patient monitoring.
Every healthcare organization should have an Android app to connect with patients easily. If you are in the healthcare industry and want to develop your Android app, there are various factors that you need to consider. This blog will help you get detailed information on those factors. Let's take a dig.
Why Developing a Healthcare App is Essential to the Medical Industry?
With the rise of COVID-19, it was clear that we should upgrade our healthcare system. Taking it online is the best way to do so. According to research, almost 77% of young adults use mobile apps to monitor their health conditions.
Previously, there were some issues that people were facing in the healthcare domain. Some of the most crucial issues were, meeting doctors at odd hours, visiting hospitals to know appointment schedules, etc.
Healthcare apps have provided us with various facilities in one place. Using healthcare apps, patients can consult the best doctors, get an online prescription, and much more. For a healthcare business, these apps can help doctors consult more patients, accurate diagnostics, improve communication, reduce costs, manage the staff, etc.
10 Factors to Consider While Developing an Android App for Healthcare Industry
Below are some factors that you should consider while developing an Android app for the healthcare industry:
Know Your Audience
To develop an Android app, you first need to identify your user base. The users of healthcare apps can be of any age. So, the features you design for a healthcare app should be easily accessible to patients. Before starting to develop an app, you must research 'What people want from a healthcare app?'
HIPAA Compliance
The healthcare app you are planning to develop should be HIPAA compliant. You must adhere to the rules and regulations of HIPPA. It is a point where various healthcare apps are facing issues. HIPAA ensures the security of patients' data and information that is captured, shared, or transferred using the Healthcare app.
Create a User Guide
It is very important to create a user guide for a healthcare app. It can help people use the app easily and explore all of its features. You can also give a section of FAQs, consisting of 'how-to' questions. A step-by-step guide can help them to get the details of the features of the healthcare app.
Use of Blockchain for Medical Records
Blockchain is a decentralized digital ledger that is used for secure transactions of digital data between two people. Apps must work to maintain the security of health-related information, the use of blockchain can make the transaction of any data secure on your app. It will allow only doctors and patients to share the report without worrying about security. To integrate blockchain into your healthcare app, consult the best healthcare & fitness app development service provider.
Artificial Intelligence
In this modern world, you must make use of AI while developing a healthcare app. It can help doctors and patients in various areas of healthcare, i.e., diagnosis, prescription, examining X-rays, medical records, etc. With the help of AI, it is easy to integrate the medical report of a patient and provide them with good treatment.
Simple Design
The design of a healthcare app should be simple. Each feature should be easily accessible. The complex design of healthcare apps can irritate the user and also decreases your conversion rate. A healthcare app development company can help you with the best design for your app.
Interoperability
This is the era of technology, and everyone uses various technical devices. A healthcare app must be able to transfer information from one device to another. People these days use different health-based wearable devices, your app should have a feature to sync the data between both devices.
Features of the App
While planning to develop a healthcare app, it is important to know which features are essential for your healthcare app. The features of a healthcare app can vary, depending on its functionalities.
The primary feature that a healthcare app must have:
Schedule an appointment
Check reports
Diet plan
Health Activity
Reminder for medicine dosage, etc.
Selection of APIs
Depending on the features of the project, you must choose the development platform. Different APIs can be used to ensure a smooth transfer of data from one module to another. There are many APIs to choose from, but you should only choose a trusted and legitimate provider.
Core Team Must Involve a Medical Expert
If you have developed a great app with all the essential features, good design, etc., but you have provided wrong information at some points, it can be a huge drawback for your healthcare app. It is important to involve a medical expert to look after the development of the app and the data you are providing.
Conclusion
Developing your healthcare app can help you reach various people and provide them required treatment. These are some factors that you should consider when creating a healthcare app. In the healthcare business, securing patients' information and providing them with health monitoring are the factors that make your app reliable for the user. If you are planning to develop a healthcare app, contact the best healthcare app development company.