'White Noise' Makes a Quiet Arrival in Venice: Adam Driver and Greta Gerwig Receive a Muted Standing Ovation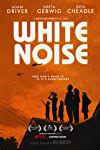 The premiere of "White Noise" kicked off the 2022 Venice Film Festival on Wednesday night. Noah Baumbach's Netflix-supported adaptation of Don DeLillo's novel. Starring Adam Driver and Greta Gerwig, received a tepid 150-second standing ovation.
On the Lido, where many films receive a much more enthusiastic and sustained reception. That amounts to a smattering of applause." White Noise" is set in the 1980s and contains Easter Eggs from films of the era ranging from "Back to the Future" to "E.T." Some of these references may have gone unnoticed by the Venice crowd.
It follows Jack (played by Driver), a professor who rose to prominence by teaching Hitler studies at a liberal arts college in Middle America. The group attempts to navigate the usual rocky passages of family life with Jack's fourth wife Babette (portrayed by Gerwig) and their children. However, when an airborne toxic event forces them to face the threat of death together. Their domestic issues are overshadowed and disrupted.
White Noise Review
In Venice, Variety's Owen Gleiberman wrote, "A meticulously reverent adaptation of Don DeLillo's acerbic domestic academic satirical dystopian novel of American middle-class life in the 1980s." It's the kind of audacious, risk-taking literary event film that a gifted director makes after a celebrated success and feeling his power in the industry.
Despite the mediocre reviews for the opening night film, the 79th Venice Film Festival began in grand style. The Sala Grande Theatre. Which has been operating at half-capacity for the last two years due to a pandemic that refuses to fade to black, was once again packed. Hillary Clinton walked the opening night carpet with Venice jury president Julianne Moore and "Bridgerton" star Rege-Jean Page, adding some Beltway zing to the A-list affair. But it wasn't all glitz and glam. Ukraine's President Volodymyr Zelenskyy also appeared in a video segment. Pleading with the global film community to rally to the country's cause as its war with Russia continues.
"White Noise" is Baumbach's second film to premiere at the Venice Film Festival, following 2019's "Marriage Story". Which also starred Driver in a leading role. Baumbach may have hoped to recreate the magic. After "Marriage Story" received critical acclaim in Venice three years ago. Driver and co-star Scarlett Johansson became instant Oscar contenders. Netflix also contributed to the film's six Oscar nominations, including one for best picture. Laura Dern won the award for best-supporting actress.