Salad of Broccoli and Chicken with Lemon Dressing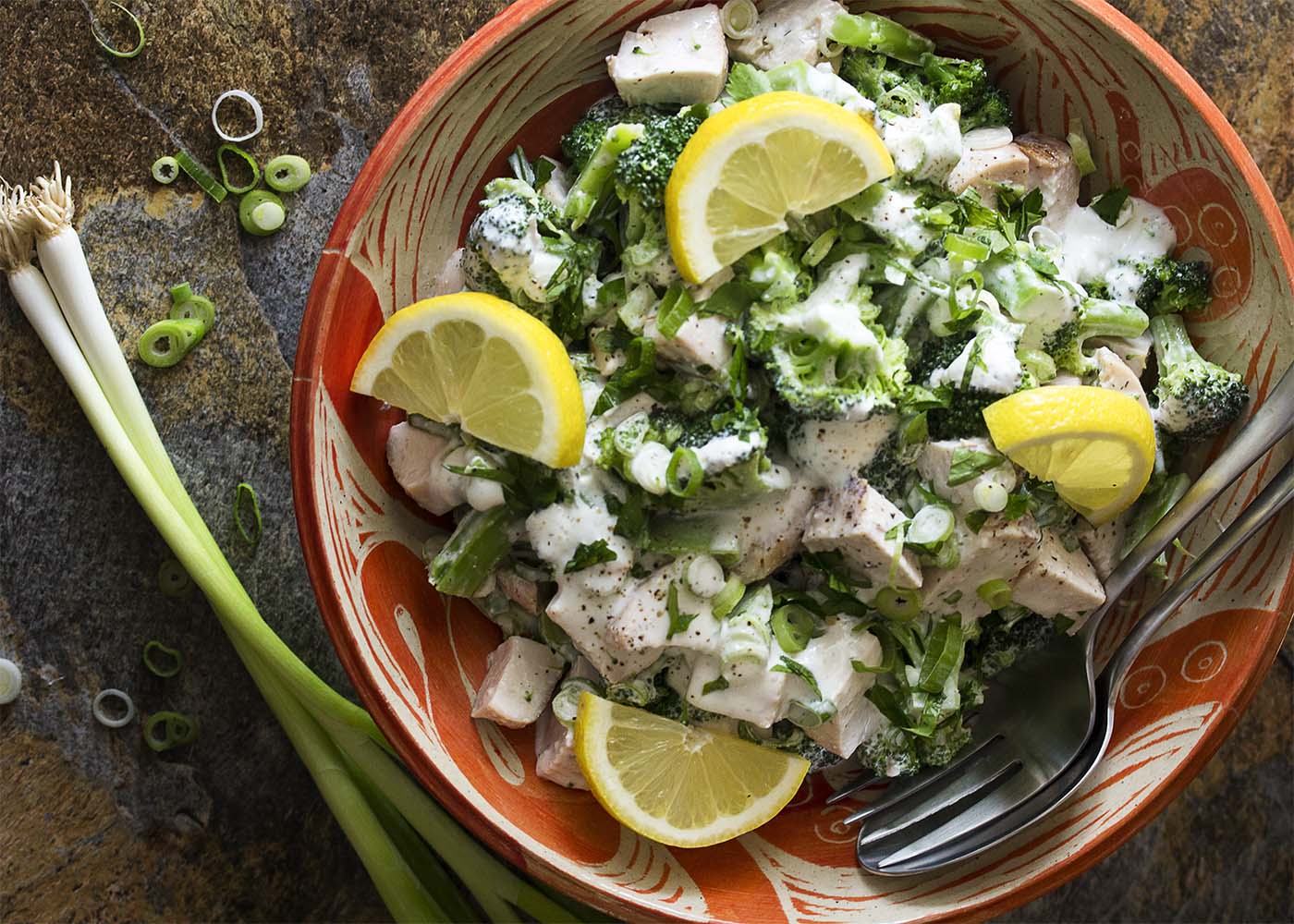 A great, lighter salad option is Broccoli and Chicken Salad with Lemon Dressing.
Salad of Broccoli: This isn't your average salad. There isn't any lettuce. There is also no tomato. It's more of a potato salad with broccoli, carrots, and chicken! So it's a jazzed-up potato salad with no mayonnaise-based dressing. It's a one-of-a-kind salad that's also delicious.
To begin, steam the potatoes, broccoli, and carrots and allow them to cool to room temperature.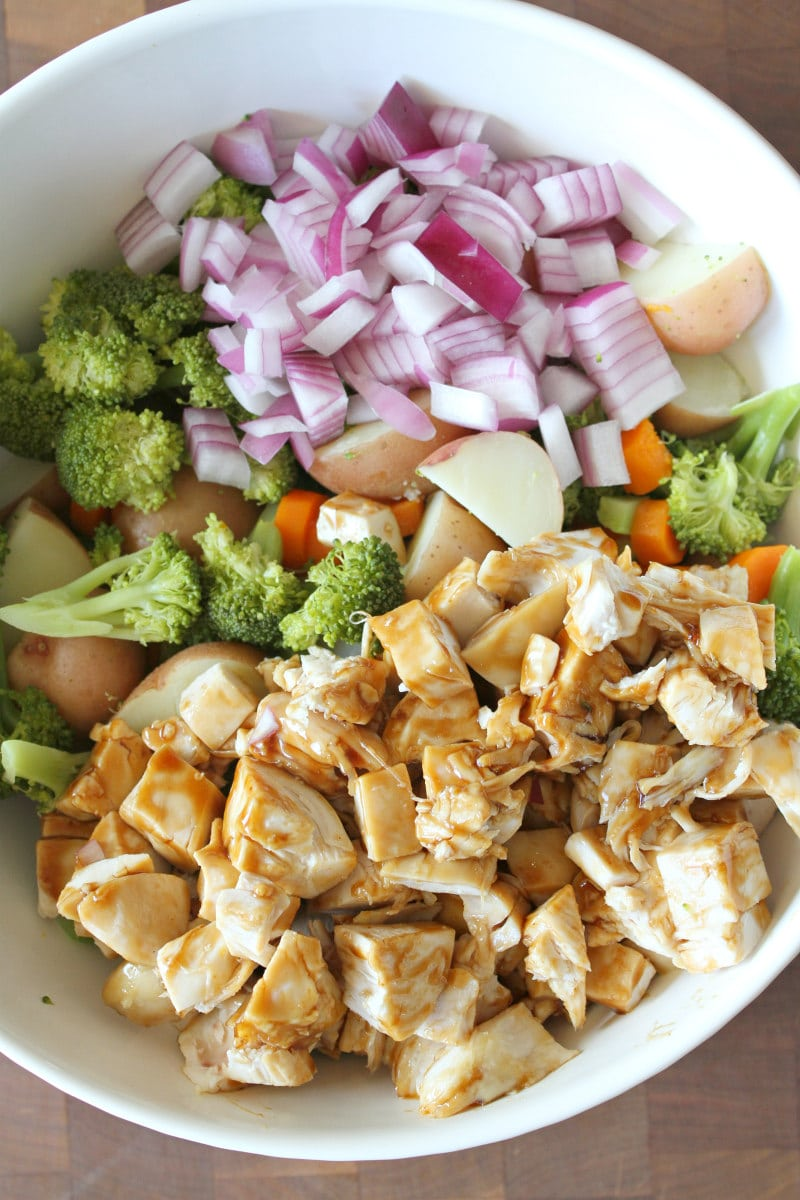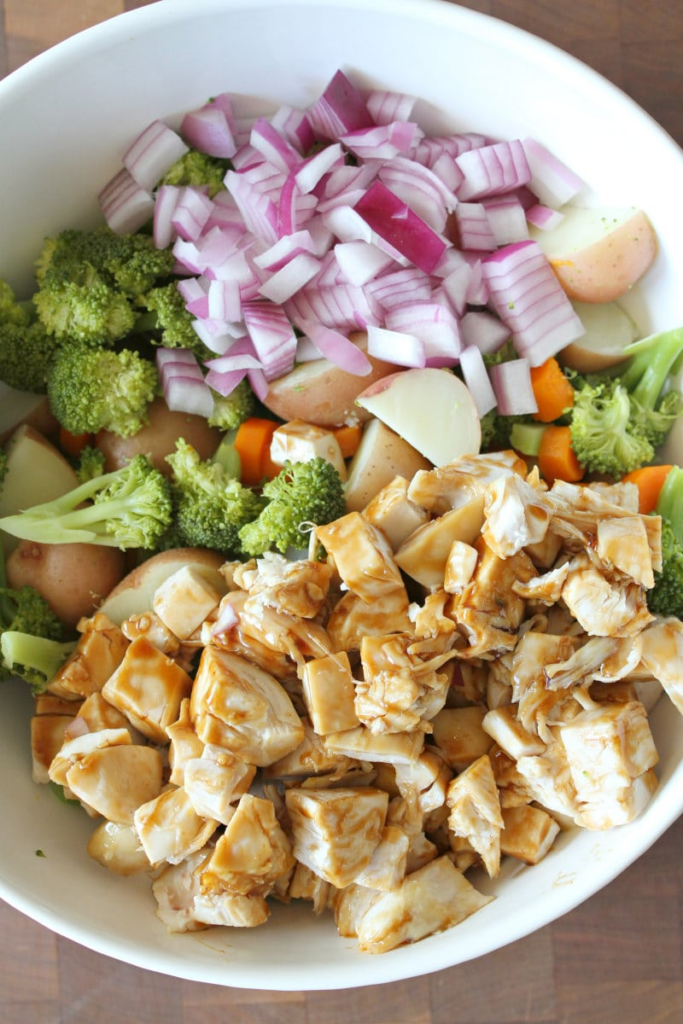 Then, add some chopped red onion. Chopped roasted chicken is tossed with hoisin sauce and honey before being added to the salad. To evenly distribute all of these fantastic ingredients, toss everything together. The dressing will be added later. The dressing is both simple and delicious.
Sliced garlic is cooked in a small amount of oil until lightly browned. The warm garlic oil is flavored with lemon juice and freshly chopped thyme. The warm salad dressing is then drizzled over the salad. Throw away.
The dressing isn't heavy at all, and it just adds a light flavor to the salad. This salad is ideal as a side dish to grilled meats. It's also a fantastic salad to make and eat for lunch.
Broccoli and Chicken Salad with Lemon Dressing
Recipe Specifications
Preparation Time: 15 minutes
Cooking Time: 15 minutes
15 minutes for cooling
45 minutes total Salad as a course American cuisine Keywords: broccoli and chicken salad, chicken salad, broccoli salad Servings per recipe: 4 325 kilocalories.
Ingradients
1 pound red skinned potatoes (unpeeled), cut into 1/2-inch cubes
1 cup carrots, sliced
2 cups florets broccoli
2 cups roasted chicken, chopped
1 teaspoon hoisin sauce
1 teaspoon honey
12 cup red onion, chopped
DRESSING:
2 tbsp extra-virgin olive oil
1 tablespoon garlic, thinly sliced
12 tbsp freshly squeezed lemon juice
1 tablespoon fresh thyme, chopped
Instructions
MAKE THE SALAD
Steam the potatoes and carrots for about 9 minutes (steamer rack set over simmering water). Add the broccoli florets to the steamer rack; cover and steam for 3 minutes, or until all vegetables are just tender. Cool the vegetables to room temperature in a large mixing bowl.
In a small bowl, combine the hoisin and honey. Brush the honey-hoisin mixture over the roasted chicken. Add the chicken and red onion to the vegetable bowl.
MAKE THE DRESSING:
In a small saucepan, combine the oil and garlic. Cook for 1 minute over low heat, or until the garlic begins to sizzle. Remove from the heat and allow to cool slightly. Incorporate the lemon juice and thyme. Toss the salad with the warm dressing to coat. Season salad with salt and pepper to taste.
Nutrition
1 gram, 325 calories, 34 grams of carbohydrates, 26 grams of protein, 10 grams of fat, 2 grams of saturated fat 60mg cholesterol, 176mg sodium, 991mg potassium, 5g fiber, 10g sugar, 5727IU vitamin A, 61mg vitamin C, 69mg calcium, 2mg iron
FAQ
What ingredients are in Chinese chicken salad dressing?
In a small bowl, whisk together rice wine vinegar, garlic, sesame oil, sugar, ginger, and soy sauce; set aside. Combine the chicken, soy sauce, sesame oil, and white pepper in a gallon Ziploc bag or large mixing bowl; marinate for at least 30 minutes, turning the bag occasionally.
Is chicken salad healthy?
Chicken salad is a good source of iron and is high in lean protein. Depending on the other ingredients, it may also contain fiber, vitamins, minerals, and other nutrients. Using mayonnaise or serving the salad on a croissant, however, adds calories and fat.
Do you include eggs in your broccoli salad?
Creamy Broccoli Salad with Eggs is loaded with crunchy salad ingredients, tossed in a tangy mayo and vinegar dressing, and packed with protein from salty cooked bacon and hard-boiled eggs.
Do you include eggs in your chicken salad?
Eggs, relish, red onion, celery, mustard, mayo, and spices are common ingredients in Southern-style chicken salad. Different people make their southern chicken salad with slightly different ingredients.
How long can you keep Chinese chicken salad in the fridge?
Refrigerate any leftovers in an airtight container for up to four days. Keep the dressing separate from the salad if possible. Use boneless, skinless chicken thighs instead of chicken breasts.
Do you immerse hard-boiled eggs in cold water?
Begin with boiling water.
When making hard-boiled eggs, always start with cool water. Bringing the water and eggs to a boil together promotes even cooking and prevents cracking. Follow this advice: Always begin with cool water. Cover the eggs with cold water in a saucepan.
Is it possible to freeze chicken salad?
Fortunately, chicken salad can be frozen for later use. As long as your chicken salad hasn't been left out at room temperature for more than two hours, as recommended by the FDA, you can freeze it in a plastic bag or airtight container for up to three months.
Editor's choice: Cheese Shells with three kinds of a creamy white sauce