Fourth of July Front Porch Decorations: Our 14 Favorite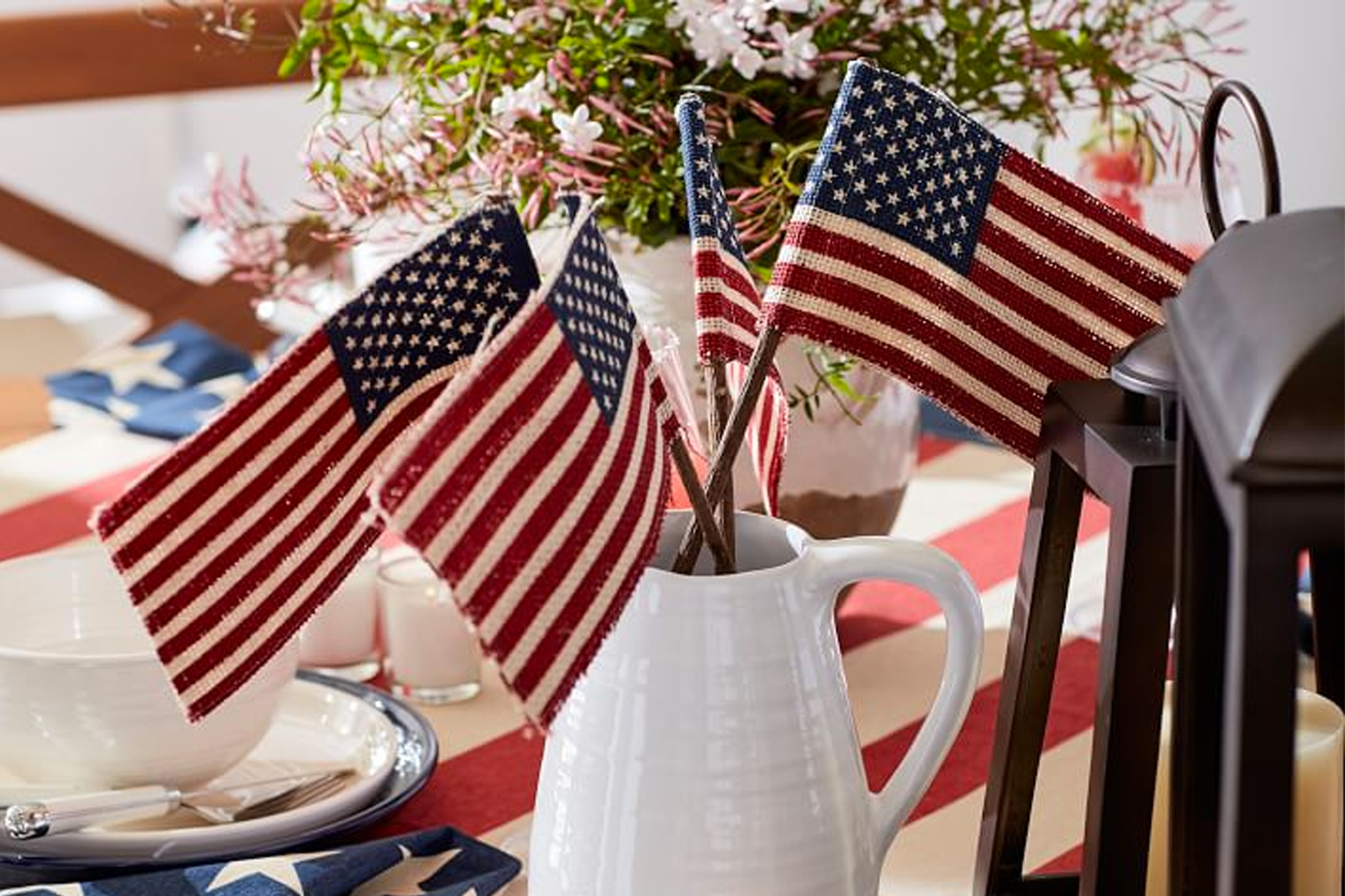 Fourth of July Front Porch Decorations: Whether you're planning a cookout or watching the neighborhood fireworks with your closest friends and family. The Fourth of July is a great time to decorate your home with patriotic red, white, and blue decor. One of the best ways to show your patriotism to others is to decorate your front porch with traditional motifs such as stars and stripes and to incorporate the colors of the American flag into your design.
Kerrie Kelly, creative director of Kerrie Kelly Design Lab, says, "Porch decorations are a great way to show your patriotism." She observes that these displays demonstrate an enthusiasm for our independence while also brightening up the neighborhood. Which she says is "especially true for areas that have block parties, parades, or simply for passersby."
When it comes to Fourth of July decorations for your own porch, Kelly recommends pillows, flags, and wreaths. "Depending on your setup, this is a single large flag, a string of flags, or small flags on a stick," she explains. "A wreath can be purchased at your favorite local shop. It can be turned into a fun family DIY project that truly reflects your personal style." Welcome guests to your home with a subtle nod to the flag. Such as this Pottery Barn Stars and Stripes Doormat ($29, potterybarn.com). Choose something visible to passing cars. Such as this Big Dot Of Happiness. Yard Sign for the Fourth of July
Our Favorite Fourth of July Front Porch Decorations
Pottery Barn Stars and Stripes American Delfina Micro LED Hanging Firework String Lights Patriotic Barn 3D Stars Wall Décor Doormat Anthropologie Red, White, and Blue Pottery Barn Liberty Burlap Party Banner Big Dot of Happiness Aged Iron Star Wreath The YK Decor Store Wooden Owl August Grove Patriotic Barn Star Metal Wall Decor Pottery Barn Liberty Burlap Flag Plant Stand Happy Fourth of July Yard Sign Wheelbarrow Rinaldi
Americana Patriotic Barn 3D Stars Wall Décor by Delfina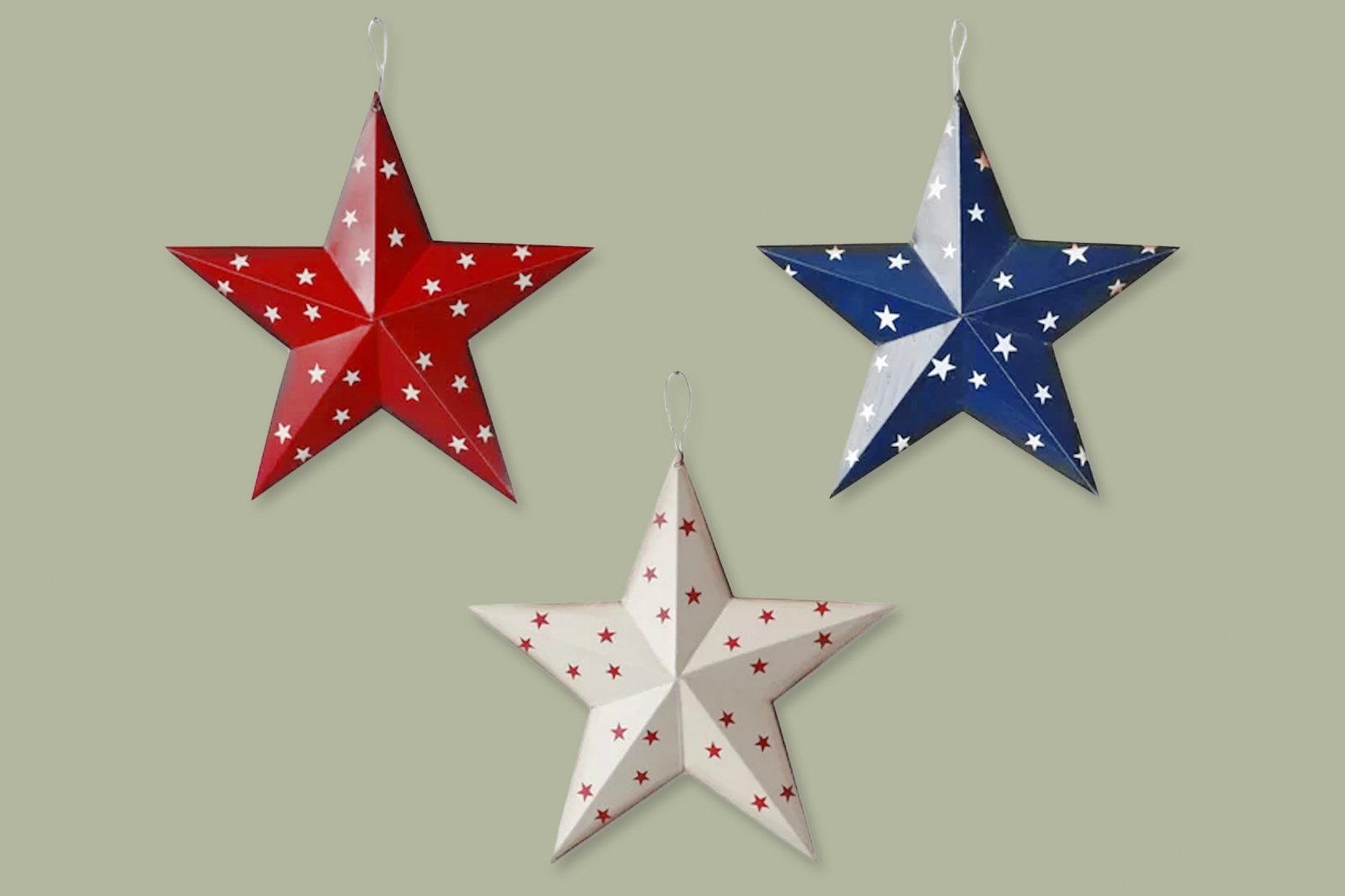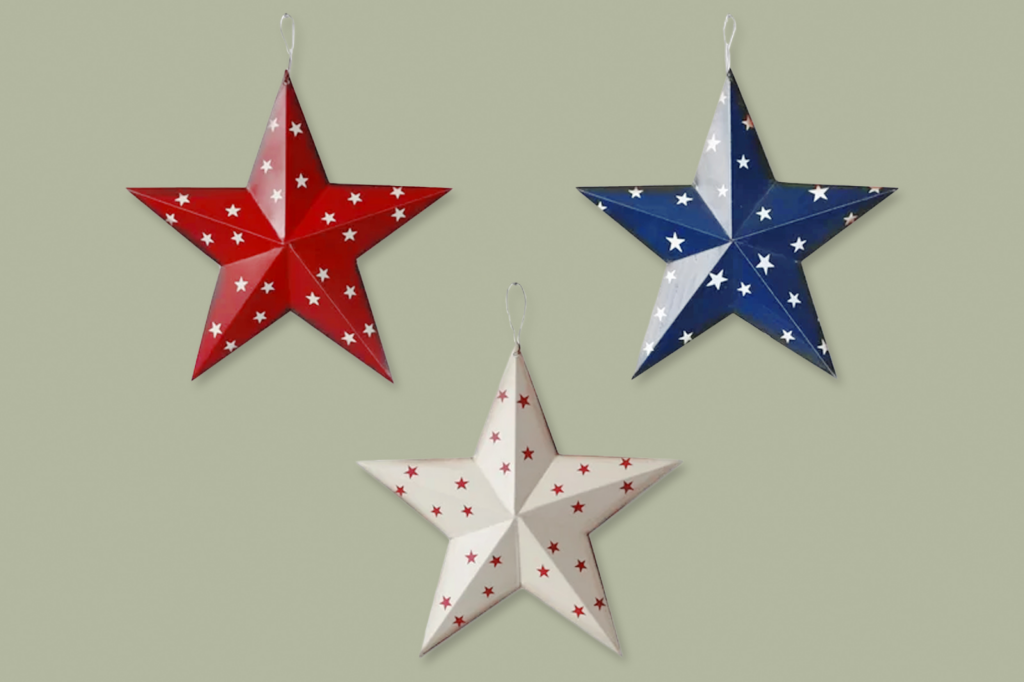 For Fourth of July Front Porch Decorations, Hang these patriotic stars from your porch to show guests and passersby that you're ready to celebrate the Fourth of July. Each of the three stars in the set is a different color red, off-white, and blue, and has smaller stars printed on the outside. Your outdoor space will feature two patriotic themes: stars and a tribute to the American flag.
Pottery Barn Pillow Cover with Embroidered Flag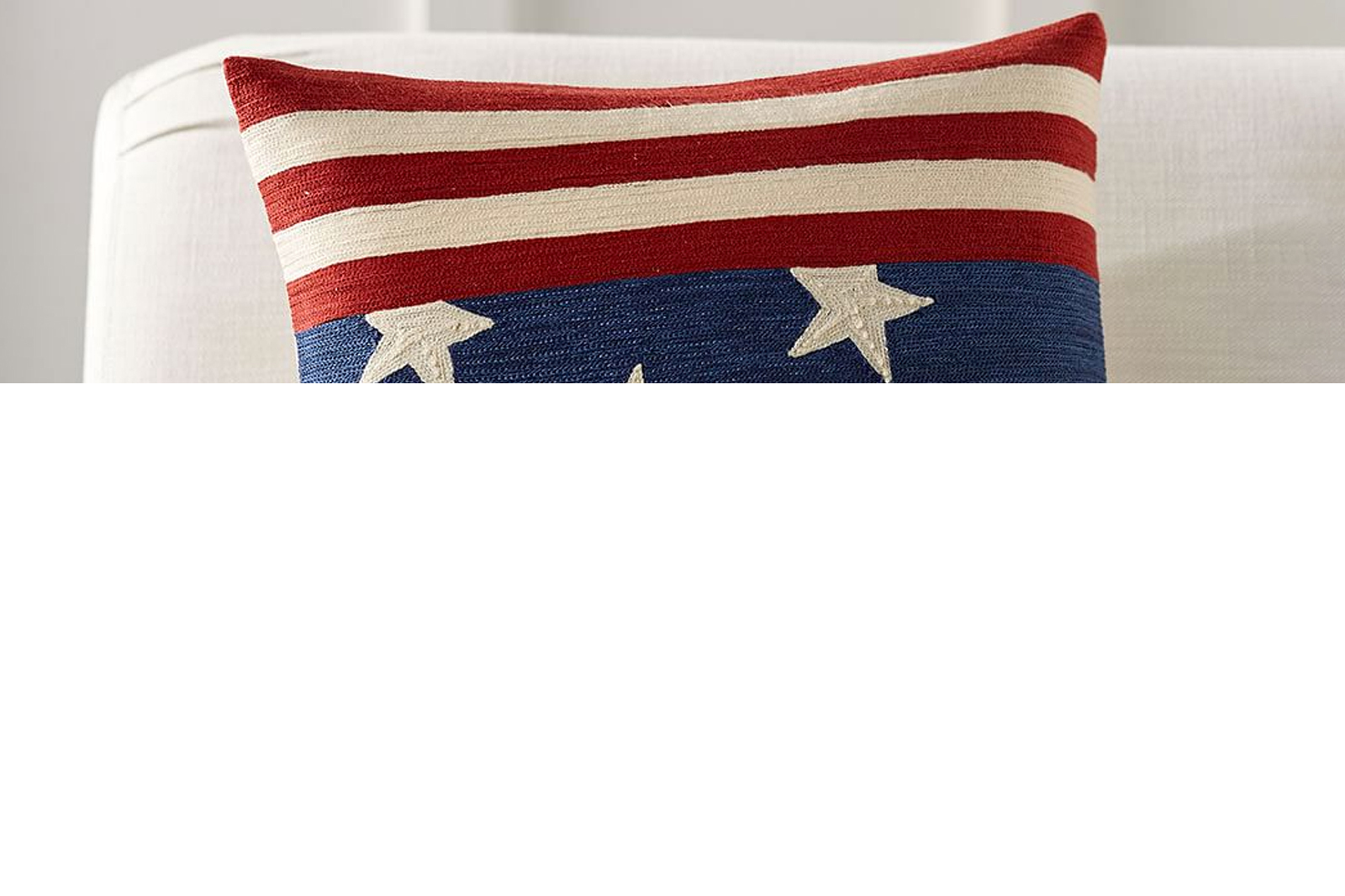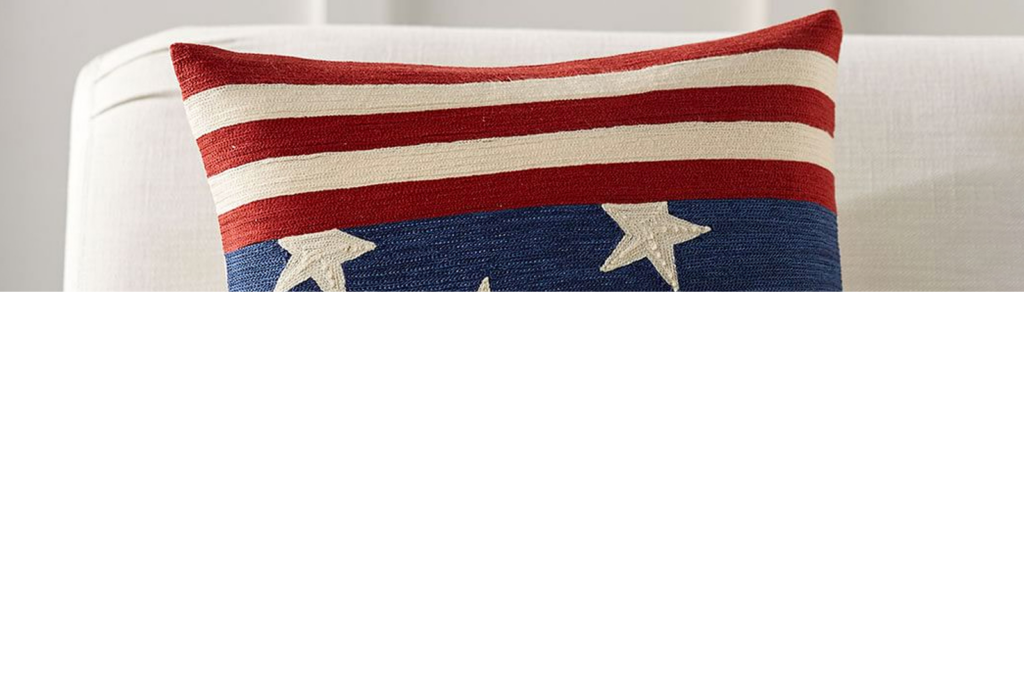 Decorate your patio furniture with an on-theme pillow to add some Independence Day flair. This Pottery Barn flag-embroidered cover fits any 18-inch insert and is made of machine-washable cotton sheeting. "Pillow covers are an excellent way to update your décor without purchasing larger items that take up more space in your garage," Kelly says. "When the holiday is over. The covers can be easily folded up and stored in a single bin with the rest of your Fourth of July decorations."
Patriotic Woodchip Wreath Place and Time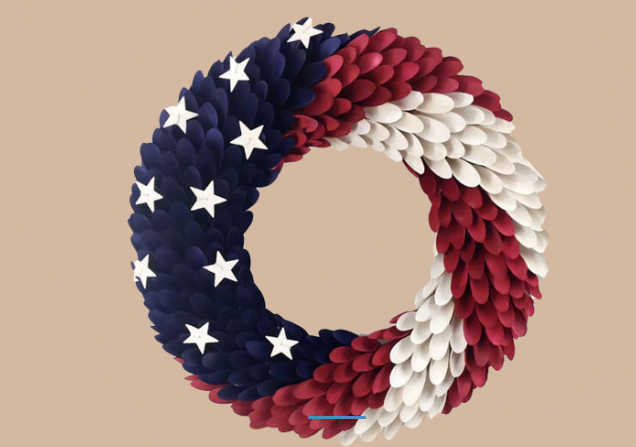 "A wreath is a great option for Fourth of July décor because it is softer, lasts longer, and can be used for years to come," Kelly says. This one is made of wood chips and has a half-stripe. Half-star design is is reminiscent of our country's flag.
Stars and Stripes Doormat from Pottery Barn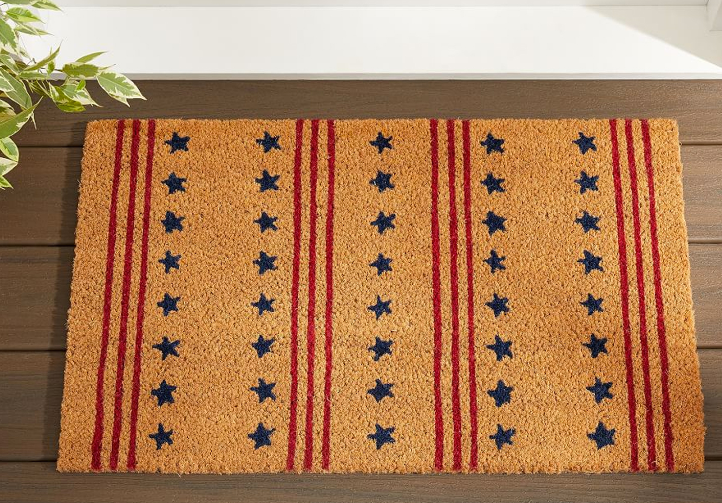 This stars and striped doormat will add some Americana flair to your home's entryway. The mat has a non-slip vinyl backing that keeps it from sliding around and keeps you and your guests safe
Micro LED Hanging Firework String Lights in Red, White, and Blue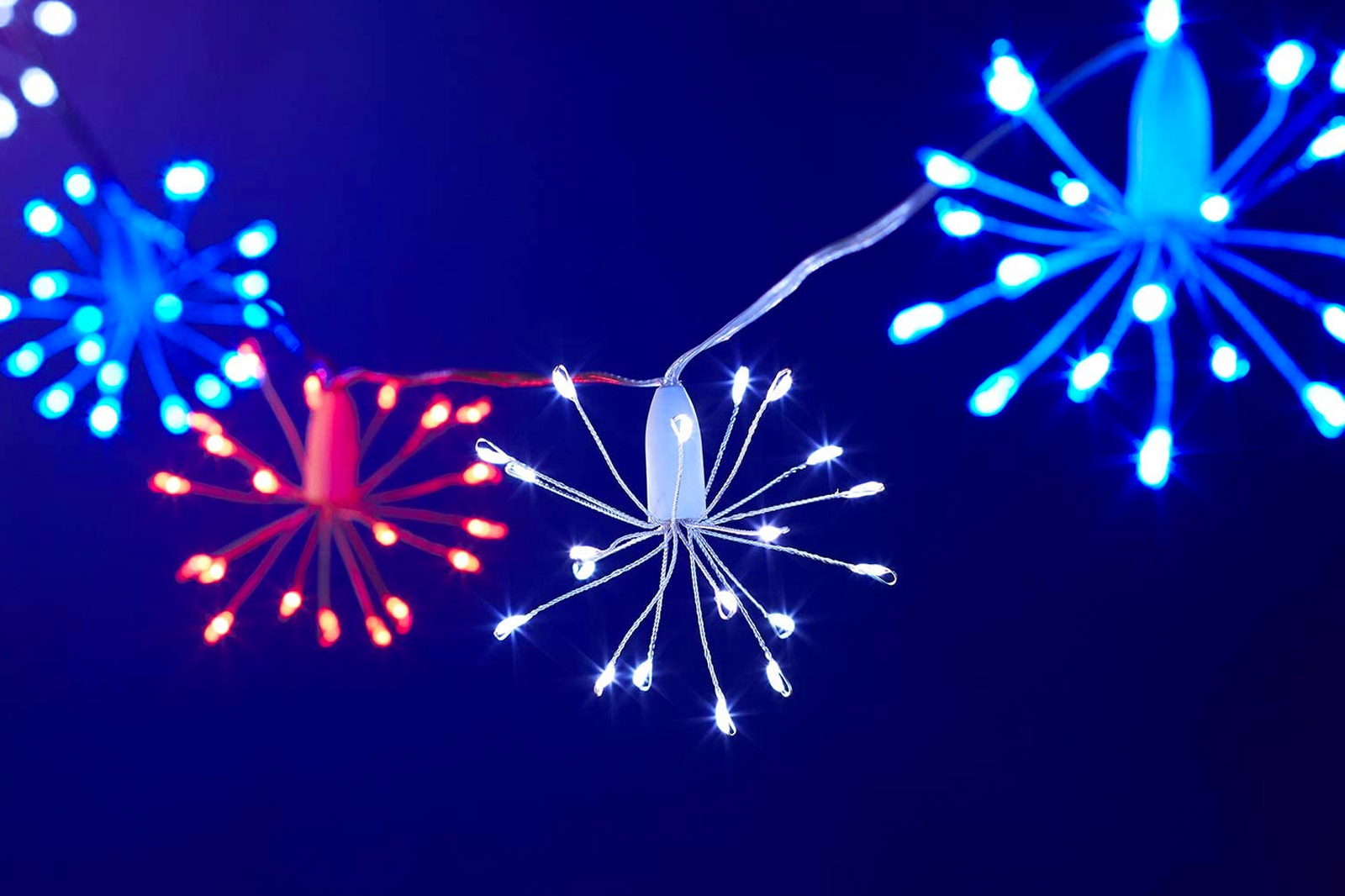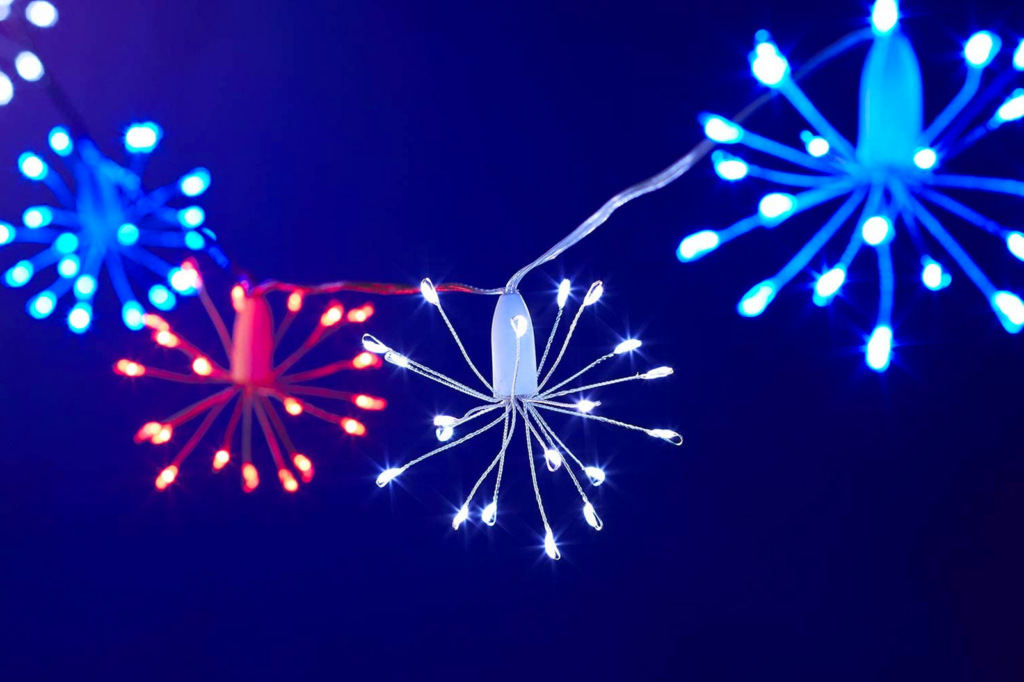 Fireworks are a popular Fourth of July motif, and when placed across your porch. These hanging lights will evoke that image day or night. Because they are fully waterproof. You can hang them indoors or outdoors, and the LED light bulbs stay cool, so you can leave them plugged in all day without worrying about them overheating.
Liberty Burlap Party Banner from Pottery Barn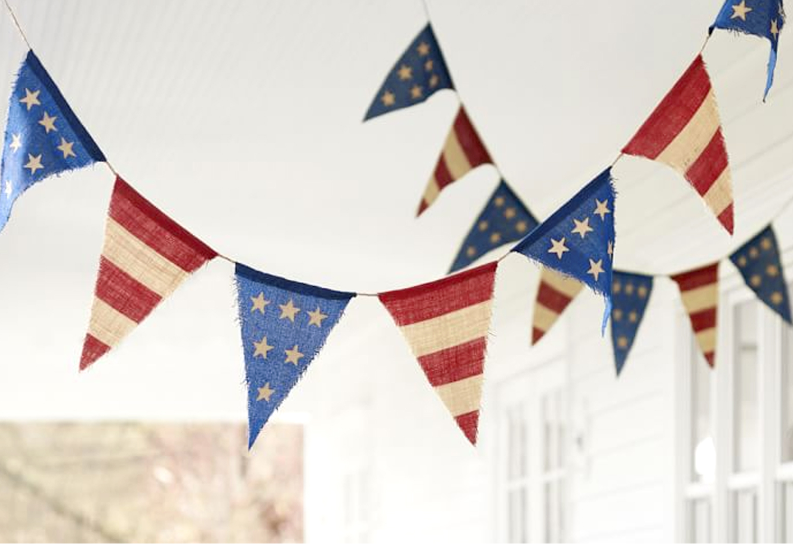 Crafted of jute burlap and strung together with twine. This stars and stripes banner will give your porch a rustic look that's perfect for Independence Day
Large Wooden Stars The Wooden Owl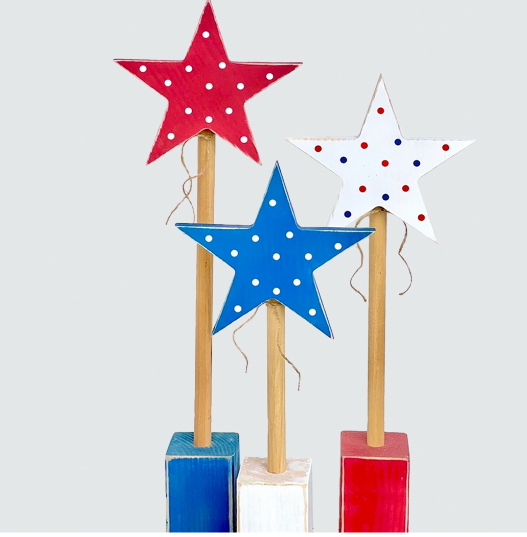 These hand-cut wooden stars paint red, white, and navy blue and distressed to add farmhouse charm to your porch. They come in a set of three with varying heights of 30, 26, and 22 inches tall, but you can also buy them individually.
Liberty Burlap Flag by Pottery Barn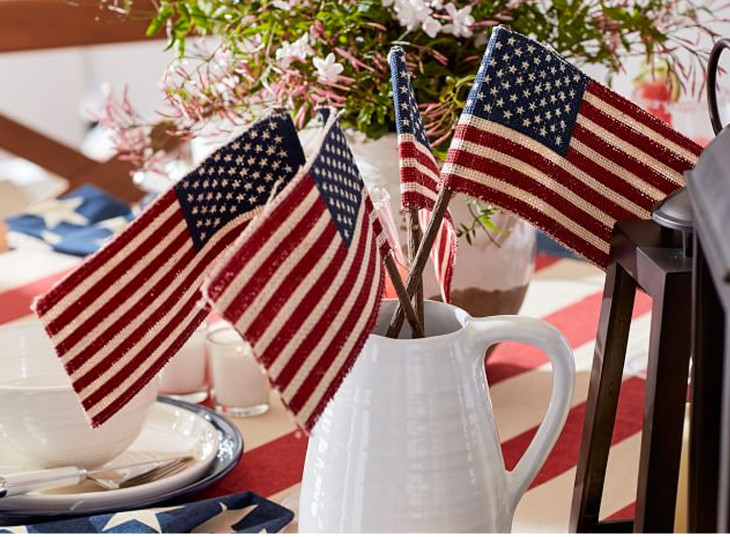 Arrange these small burlap flags in a mason jar to line the steps leading up to your porch, or place them in a vase with flowers to decorate the windowsill of your porch. Flags are a great décor item that can even be handed out as party favors to all of your guests if they are small enough, according to Kelly.
Aged Iron Star Wreath from Anthropologie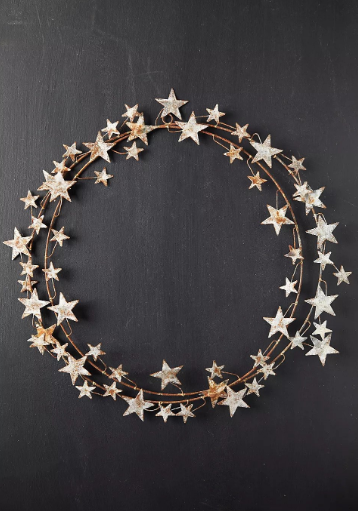 Decorative wreaths aren't just for the holidays. This simple iron star piece will add subtle but festive energy to your front door.
YK Decor Store's Patriotic Barn Star Metal Wall Decor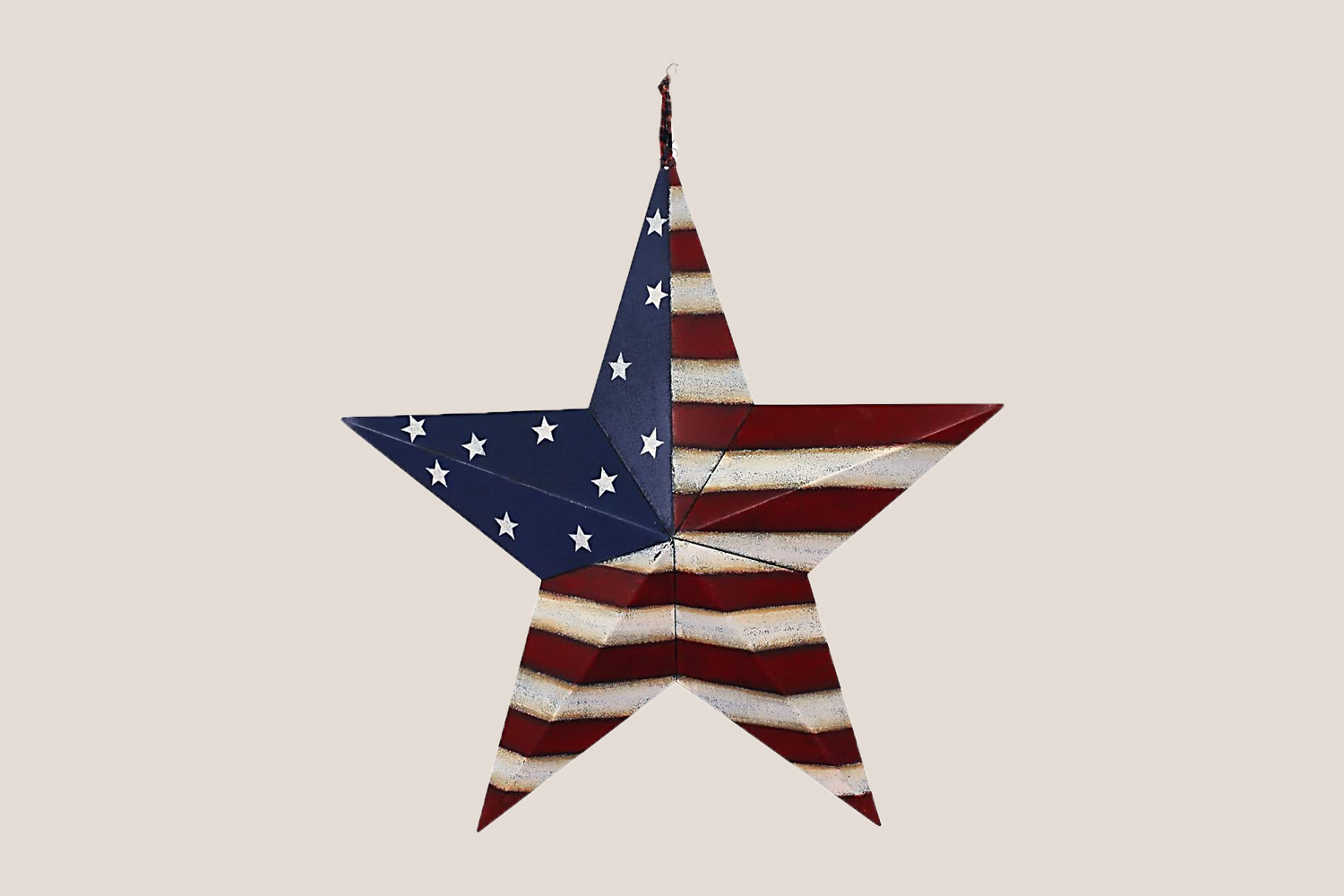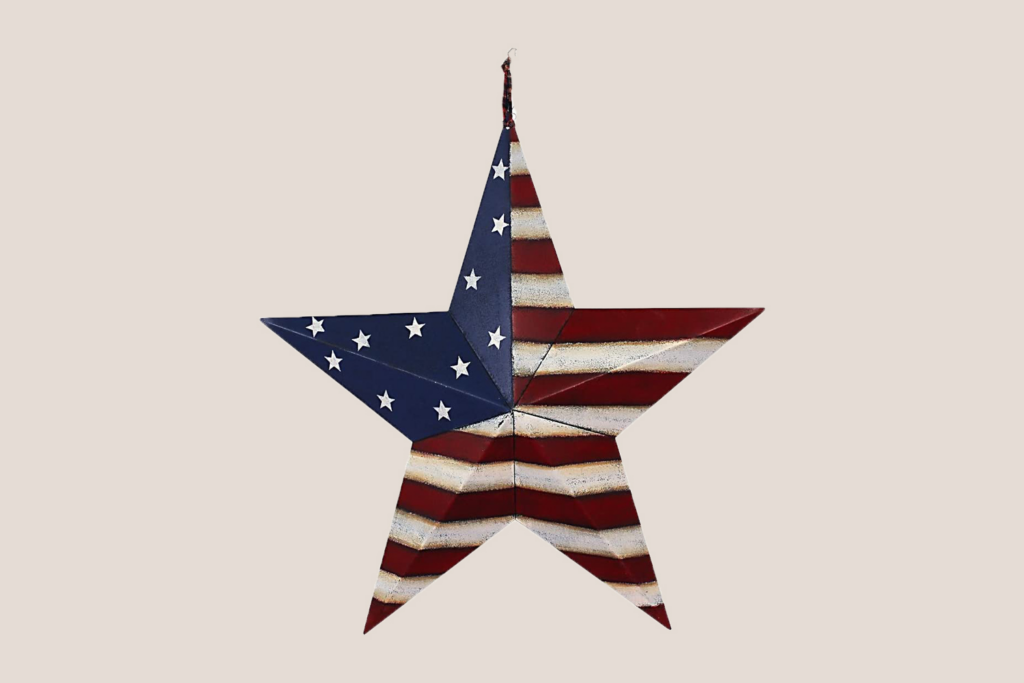 Not a fan of wreaths? Then, on your door, hang another thematic detail, such as this tin flag star. The decoration is simple to hang thanks to a pre-drilled hole in the back.
August Grove Rinaldi Wheelbarrow Plant Stand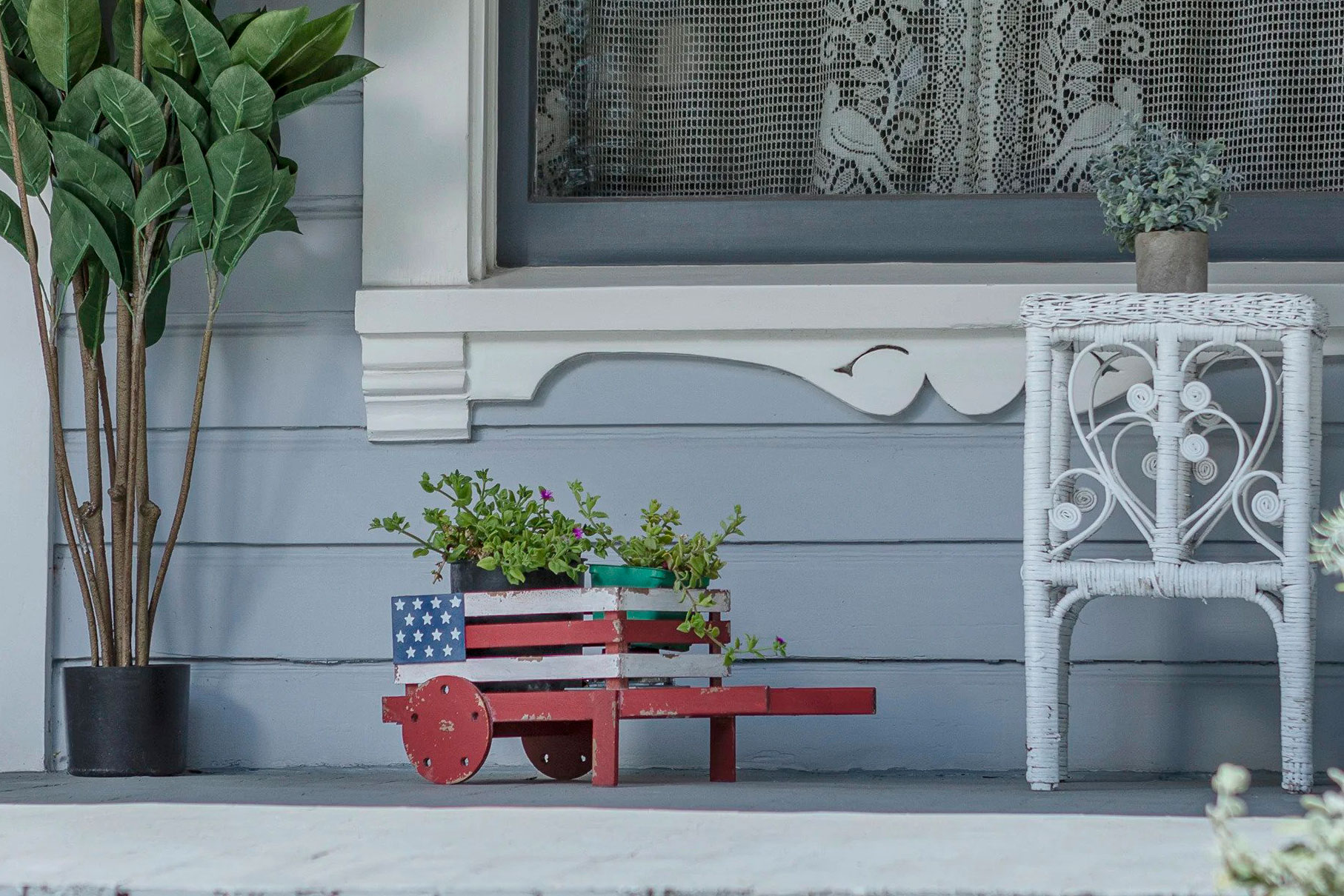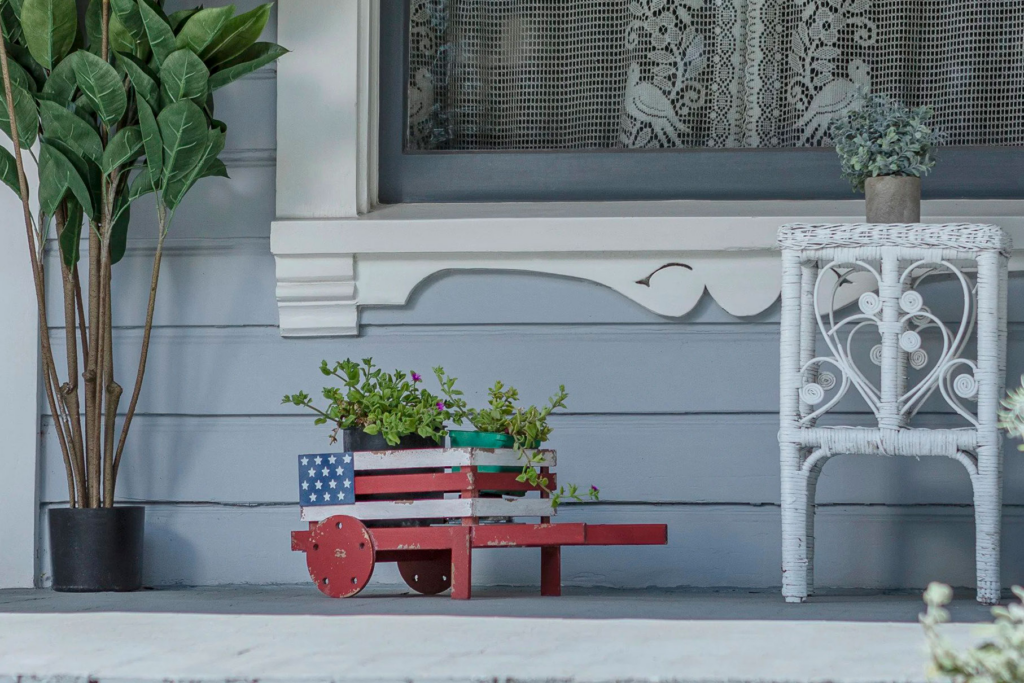 Put your plants in this red, white, and blue wheelbarrow to give them a patriotic makeover.
Sun Squad Lumbar Throw Pillow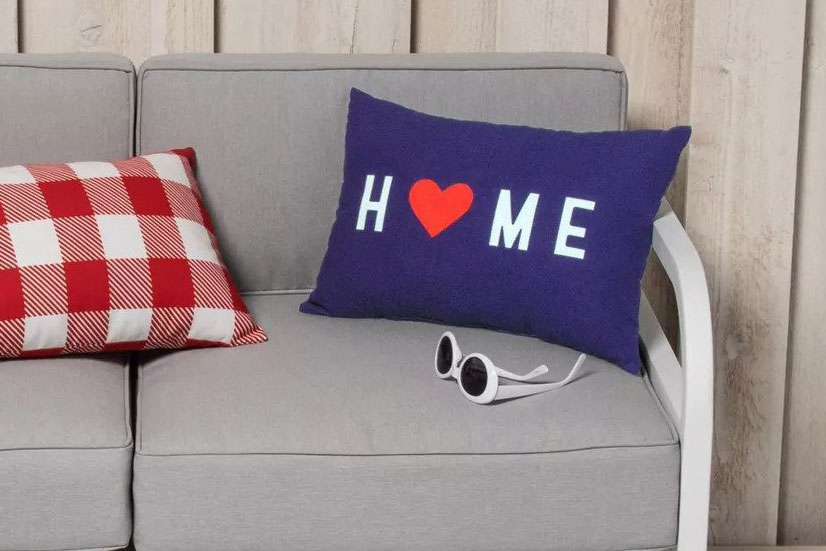 Place this blue throw pillow with white lettering on your porch furniture for a more understated Fourth of July look. This soft throw, made of 100 percent polyester fiber, will instantly add comfort to your space.
Happiness is a big dot on a yard sign that says "Happy Fourth of July!"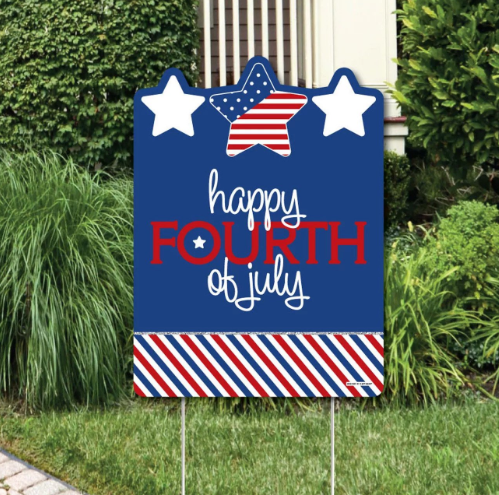 With this yard sign, you can wish your neighbors a happy Fourth of July. Place it against a wall or in the garden beds next to your porch using the included metal stakes. It's also waterproof, so you won't have to bring it inside if it rains.
Family Creations Co4 Wooden Firecrackers
These wooden decorations pay homage to a Fourth of July tradition: fireworks. One is dark blue with white stars, one is white with a blue star, and one has red stripes. It is best to keep them in a covered area to ensure their longevity.
FAQ
When should I start planning my Fourth of July decorations?
When summer officially begins in late June, most people begin decorating for July 4th. If you want to have outstanding Independence Day celebrations, you must plan ahead of time and avoid putting things together at the last minute.
How should I decorate my front porch?
Place lanterns or galvanized pails with candles on the steps to greet guests as they enter the porch. Add an outdoor rug to make the space feel more inviting. Throw a few throws on the furniture so you can wrap up on cool evenings. Accent pillows can be used to add color and comfort to your furniture.
How can I make my front entrance more appealing?
Show off your stylish house numbers. House numbers can be a fun way to add a playful pop of color to your front door.
Look around your house for front door decor.
Decorate your front door.
Make a comfortable seating area.
Outdoor lighting can help to illuminate your front door.
Include a doormat.
Replace the front door hardware.
You may also like: Landscaping Idea: Improve Your Backyard Retreat