Feta and Herb Pasta Shells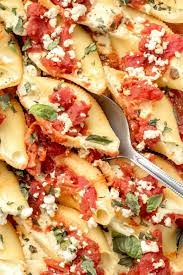 Pasta Shells with Feta and Herbs is a delicious and unique take on classic stuffed pasta shells.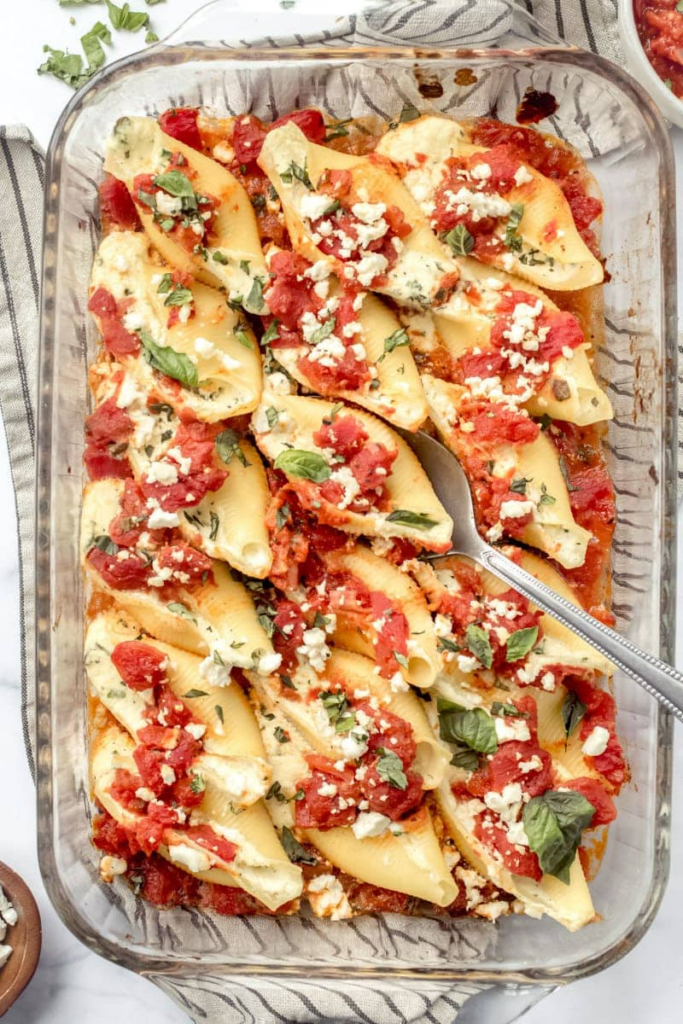 Feta and Herb Pasta Shells: I served these Pasta Shells with Feta and Herbs to dinner party guests who raved about them and asked for the recipe! You've probably had traditional stuffed shells, which stuff with ricotta and smothered in marinara sauce. This is a slightly different version. It's a refreshing change with a fantastic outcome.
How to Make Feta and Herb Pasta Shells
Feta and Herb Pasta Shells: This recipe requires a few steps, so prepare to spend a little more time in the kitchen than usual. This post contains suggestions for easier substitutions and make-ahead ideas, so be sure to read it all the way through.
Instead of using jarred red sauce, you will make your own for this recipe. The sauce is made up of diced tomatoes, onion, fresh basil, crushed red pepper, garlic, and olive oil.
Ricotta cheese, feta cheese, basil, chives, and eggs make up the filling.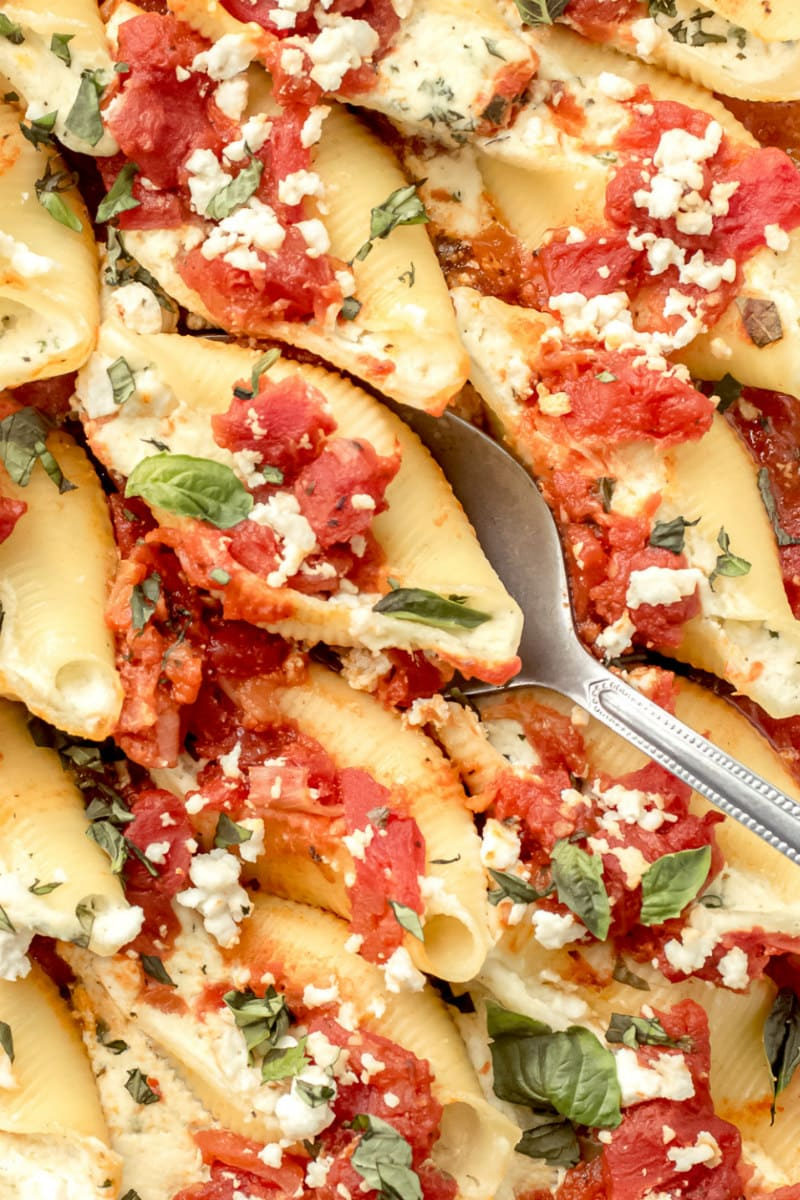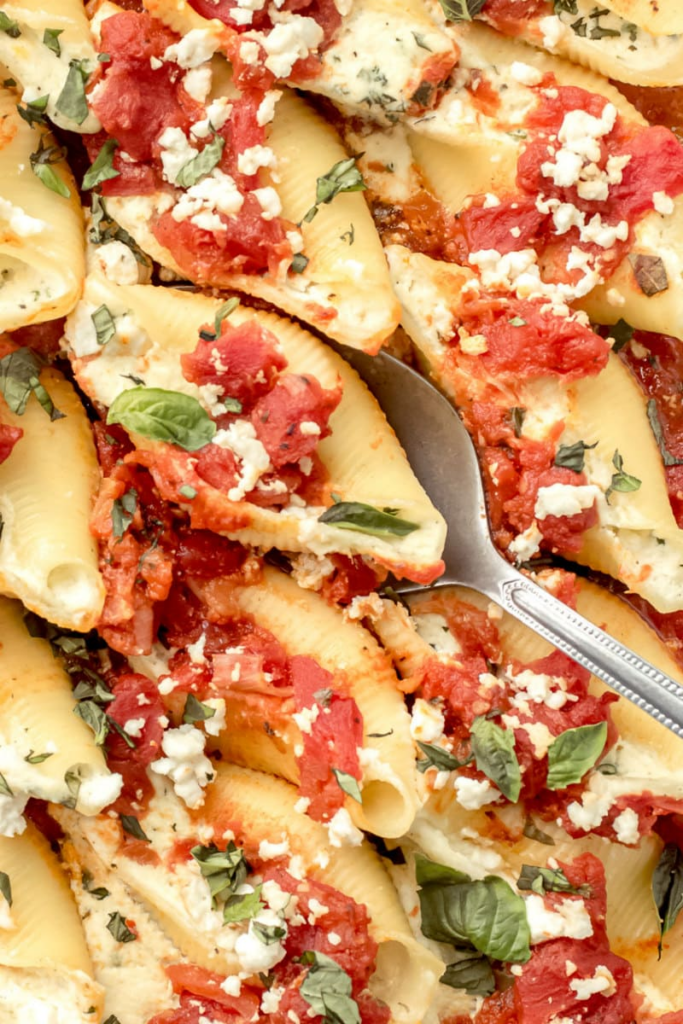 A small amount of sauce is spread into the pan, followe by cheese-filled shells and sauce spooned on top of the shells. Before baking these Pasta Shells with Feta and Herbs, more feta cheese and fresh basil are sprinkled on top.
Notes on the ingredients and suggestions for substitutions:
The sauce: The sauce is delicious and simple to make. If you want to save time, you can use jarred marinara sauce instead of the homemade sauce in this recipe.
Feta cheese: Avoid using low-fat feta cheese. The cheese fat contributes to the creaminess of the cheese filling. Instead of crumbles, I like to use chunk feta. Because you will need 14 ounces of feta cheese, purchasing it in bulk from a store like Costco will the most cost-effective.
If you don't have chives, you can substitute two bunches of green onions.
Variation: Instead of shells, use manicotti noodles to make this Pasta Shells with Feta and Herbs recipe. It's fantastic in both ways.
How to make a smaller portion
To make a smaller portion for a smaller family, cut all of the ingredients in the recipe in half (or for just two people). You'll have more than enough.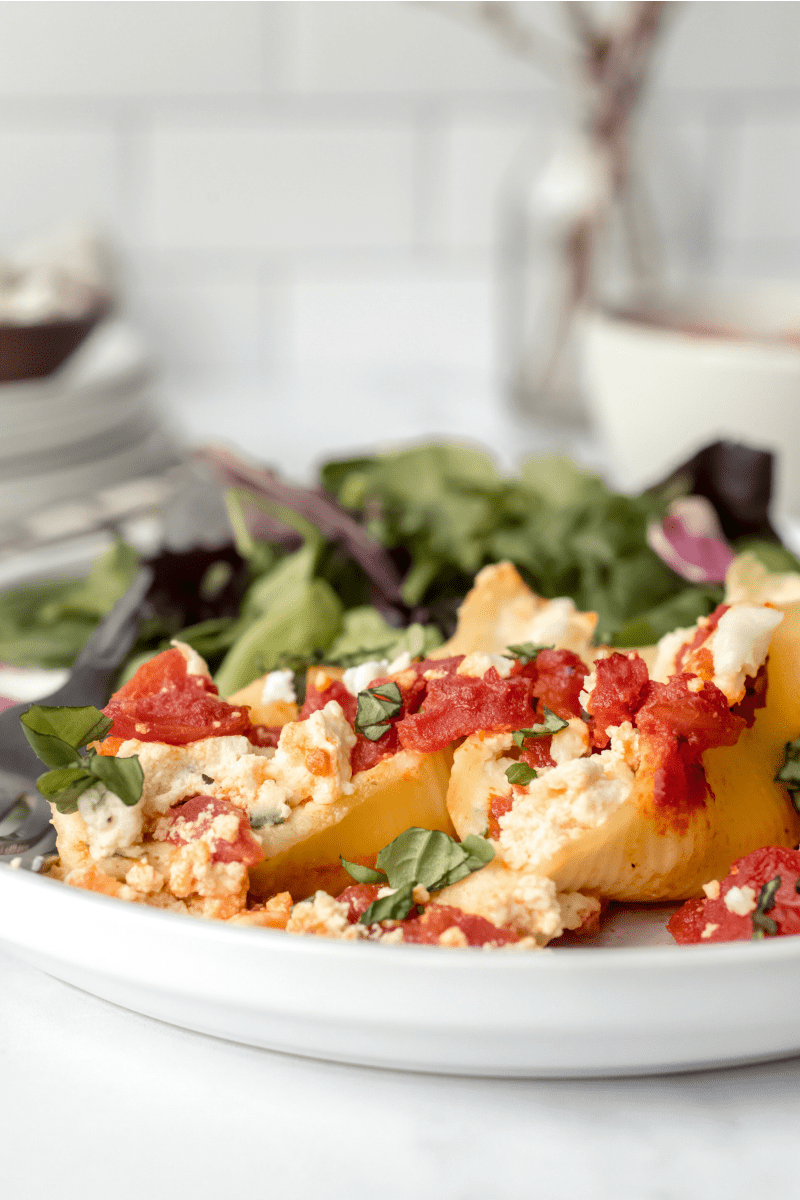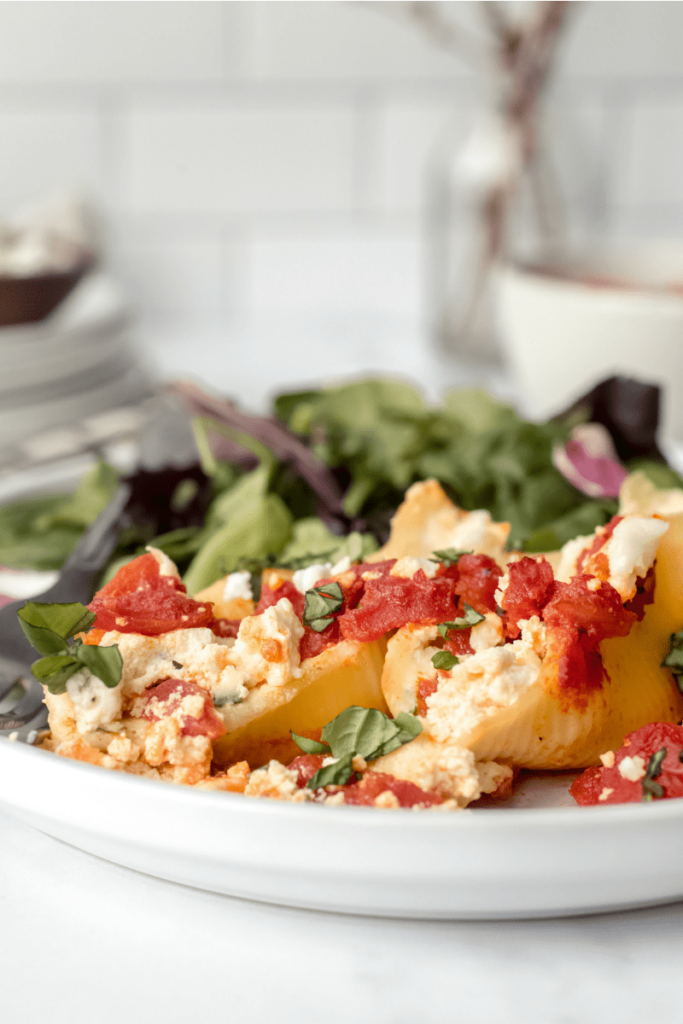 Make ahead
The sauce tastes even better when made ahead and refrigerated overnight. So you can make the sauce one day and assemble and bake the dish the next. You can also freeze one of the pans and eat it later. Prepare the stuffed shells according to package directions, but do not bake. Simply wrap in plastic wrap, then aluminum foil, label the top, and store in the freezer. Remove the foil and plastic wrap when ready to bake, and then bake. Because the shells will frozen, you may need to bake them nearly an hour.
Pasta Shells with Feta and Herbs
Recipe Specifications
Prep Time: 1 hour 50 minutes
Cook Time: 1 hour 50 minutes
Course: Primary Course Italian cuisine Feta cheese, Pasta.
Shells Servings per recipe: 8 527 kilocalories
Ingredients
2 tbsp extra-virgin olive oil
1 medium chopped onion
2 minced medium garlic cloves
a quarter teaspoon of crushed red pepper
2 cans chopped tomatoes, 28 oz (with juices)
1 cup fresh basil, chopped
FILLING:
two 15-ounce ricotta cheese containers
1/2 cup chopped fresh basil 14 ounces crumbled feta cheese
2 large eggs, chopped 2 bunches of fresh chives
Instructions
MAKE THE SAUCE:
Heat the oil in a large saucepan over medium heat, then add the onion and cook for 5 minutes. Add the garlic and cook for 5 minutes, or until the onion is tender. Sauté the crushed red pepper for 30 seconds. Mix in the tomatoes. Simmer, stirring occasionally, until the sauce is reduced to 5 cups, about 1 hour. Season with salt and pepper to taste. Take the pan off the heat and stir in the fresh basil.
TO MAKE THE FILLING
combine the ricotta, 1 1/3 cup feta cheese, basil, and chives in a medium mixing bowl. Season with salt and pepper to taste. Add the eggs and mix well.
COOK THE PASTA:
Boil the shells in a large pot of salted water until just tender but firm to the bite. Drain. Rinse with cold water until completely cool. Drain completely.
ASSEMBLE AND COOK:
Preheat the oven to 350°F.
Fill the bottom of two 13-inch glass baking dishes with 3/4 cup sauce each. Fill 30 shells and divide among dishes. Sprinkle with the remaining feta and top with the remaining sauce.
Bake for 40 minutes, or until the shells are thoroughly heated. Garnish with additional basil leaves if desired.
Note
*To save time on the day of cooking, prepare the sauce a day ahead of time and refrigerate it. You can also make the entire dish ahead of time and refrigerate it until ready to bake.
Nutrition
1 serving, 527kcal, 49g carbohydrate, 28g protein, 25g fat, 14g saturated fat, 124mg cholesterol, 993mg sodium, 690mg potassium, 4g fiber, 9g sugar 1282IU vitamin A, 22mg vitamin C, 626mg calcium, and 4mg iron
FAQ
Can you consume pasta shells?
Cooking pasta shells is an excellent way to begin a simple, nutritious meal. Small shells can use in casseroles and soups, while larger shells can stuff with anything from blended cheeses to chopped vegetables and chicken, meat, or seafood.
What is the purpose of shell pasta?
Shell pasta is available in a variety of sizes. The larger pasta shells, known as "conchiglie" in Italian, are used to stuff with meat, vegetables, cheese, and legumes. Smaller sizes, known in Italian as "conchigliette," are used for soups, salads, and casseroles.
Is it healthy to eat dry pasta?
The Dangers of Eating Raw Pasta
You run the risk of developing dietary issues if you eat raw pasta. Raw pasta contains a high concentration of anti-nutrients. The two most important are lectins and phytates. Both of them cause intestinal lining damage, disrupt enzymes in your system, and inflammation.
Why is shell pasta so delicious?
The shell-like shape of the pasta makes it very sturdy, so it can withstand thick, chunky sauces. Shell pasta is typically ridged, which traps lighter, more delicate sauces and distributes them evenly throughout a pasta dish.
What exactly is healthy pasta?
Pasta is nutritious when combine with vegetables, protein, and healthy fats. Whole wheat pasta, as well as bean and vegetable-based noodles, are the healthiest types of pasta.
What's the deal with my watery stuffed shells?
If you overcook the shells, they will tear when you try to stuff them, and the pasta will become mushy because it continues to cook while the stuffed shells bake. Remove the shells from the boiling water with a slotted spoon and place them in a bowl of cool water to stop the cooking.
How long should pasta shells be cooked?
Shells for Pasta
This is due to the wide range of unique shapes that these shells come in. While the outer edges of your shell may appear to be finished, the innermost parts of the pasta may require additional cooking time. To achieve the desired firmness, cook pasta shells for 8 to 9 minutes.
Editor's choice: Stuffed Shells with Butternut Squash